NFF POLLS: ELECTORAL COMMITTEE GOT NO INJUNCTION – MUSTAPHA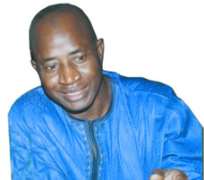 Segun Odegbami
A fresh twist to the controversial election of the board of Nigeria Football Federation (NFF) has emerged as the Chairman of the Electoral Committee, Barrister Abdulhakeem Mustapha, says the committee was not served any court injunction stopping the poll.
The committee chairman, who spoke in Lagos on Sunday, expressed dismay that despite the media attention given to the aggrieved parties for purportedly being in possession of court injunction to stop the August 21 elections, the committee had not received such document.
'We only read about the injunction in the media and as I am talking to you, we are yet to be served,' Mustapha said, stressing that as a lawyer he was aware of the implication of ignoring a court order.
'As a committee, we made a conscious effort to reach out to one of the contestants, Segun Odegbami, owing to media reports that he had filed a suit to stop the election proceedings. We wrote to him to seek clarification but he denied in a letter to the committee that he had embarked on such litigation, saying that as a versed football personality, he would not take football matters to the court of law.'
Mustapha, however, expressed dismay that stakeholders in football had ignored the decision of the NFF Congress in Makurdi in 2008 on the states football associations election and deployed efforts to scuttle the 2010 poll.
'It bears testimony to the desperation of the anti-football elements if a litigant as Harrison Jalla was the one in possession of a court injunction, a situation that is alien to law,' Mustapha said. He advised all stakeholders of football in the country to see the sport as a brand that could positively turn around the fortune of Nigeria if well exploited.