FAREWELL, ROBIN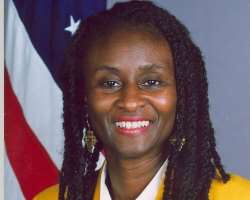 PHOTO: UNITED STATES AMBASSADOR TO NIGERIA, MS ROBIN SANDERS.
Robin Sanders is leaving Nigeria! Now that is a Nigerian departing from Nigeria. Though she is the United States' Ambassador to this country, one would hardly think it until her accent said so. She easily passes for an African woman. Or what of her attire? She favoured the ipele, piece of cloth placed cross the shoulder, and popular among Yoruba women. Everything about Sanders' presence makes one feel, "she is one of us" And she truly is, much the same way every African claims her leader in the White House, Barrack Obama, as his own. Sanders comes with more credentials however; She has lived here, and she loved it here.
The last time this writer was a few feet away from the outgoing ambassador was when she attended a cultural exchange programme early August. It was one of those things she was sent to do as ambassador, and for which she had demonstrated passion: cementing ties between her country and Nigeria. The programme was the first screening in Abuja of a documentary film, "Welcome to Shelbyville", directed by Kim Sneider. On that occasion, Ms Ambassador said she liked documentary films, especially, American documentary films, because they show the reality of American life, the everyday American, much more than the mainstream Hollywood films. And why is that important? The lessons in it. This film which is about immigrants in the U.S - legal refugees from Somalia fleeing their war-ravaged countries - a matter that caused apprehension among their neighbour Americans and how they dealt with it to set in motion a process of harmony and peaceful coexistence. It was the major reason the Ambassador herself came around to welcome guests. She said the film has lessons for Nigerians whose country also has multi-everything like the United States. And that is a profile of many of the activities of this energetic and vigorous woman – issues to deal with, and lessons to pass across from her country for the purpose of building a better nation.
Robin Renée Sanders, is a career member of the U.S senior Foreign Service. She arrived in Nigeria in December, 2007. She had previously served as International Advisor and Deputy Commandant at the Industrial College of the Armed Forces in Washington, D.C. Before then, she served as the U.S. Ambassador to the Republic of Congo (2002-2005) and as Director for Public Diplomacy for Africa for the State Department (2000-2002).She served twice as the Director for Africa at the National Security Council at the White House; and was the Special Assistant for Latin America, Africa, and International Crime for the Undersecretary for Political Affairs at the State Department (1996-1997). Sanders holds a Doctor of Science Degree in Information Science and Communication from Robert Morris University, Masters of Art degree in International Relations and Africa Studies, and a Masters of Science degree in Communications and Journalism from Ohio University. She also holds a Bachelor of Arts degree in Communications from Hampton University. She is the recipient of the Joint Chiefs of Staff Civilian Honor Award; three State Department Superior Honor Awards; four State Department Meritorious Honor Awards; the "President Merit of Honor Award" from the Republic of Congo, and several citations in Who's Who of America. Sanders is a national board member of Operation Hope - a non-profit organization focused on empowerment of at-risk communities.
Sanders has her impression of Nigerians, "Nigerians are very hard working and resourceful people," she once said. She also knows Nigerians well, "You know there is a Nigerian way of doing things that must be appreciated and understood. My Team and I understood those things. We got it…even when there was skepticism elsewhere…we were confident that your young democracy would still steadfastly move forward and it has," she once said. And she believes in Nigerians, "I have been with you through some challenging times…sad times…and some good times…over the last years, particularly the period between November 2009 and March 2010, (period of the illness of late President Umar Yar'adua) but will say that I have never once waivered in encouraging support for Nigeria because I also never once waivered in my belief that everything would also turned out alright during that period and it did." Still, she has a beautiful way of describing this nation, remarking about, "the many strong and beautiful voices that blend together to make Nigeria the mosaic nation it is today."
As she prepared for her departure at the end of August 2010, Sanders stated her wishes for her friend, Nigeria, at 50 years of age. But she fast forwarded to July 29, 2011 when she did, hoping to read in Nigerian newspapers after the elections: "Voter turnout High; Confidence in INEC restored; Voter Registry (not perfect but credible); Elections Free and Fair," and that the FEEEDS issues are being addressed. Much of these Sanders had invested in while she was here. They characterized her activities, activities defined by her country's four major goals in the country which are, investing in people, economic growth and development, governing justly and democratically, and peace and security.
On one of those occasions she had to opportunity to intimate the nation of her imminent departure, Her Excellency, Robin Sanders, the United States Ambassador to Nigeria had said to Nigerians, "Nagode"; "Me Yatti" to those who know me as GimbiyanMuri; "Ndalo" for my friends from Nri Kingdom who know me as "AdaNri"; "Eseun modupe" to my friends who call me Yeye Oba of Ogidi; "Palang" to my Horom friends; "Imela" to those who greet me "Ndewo" to those who welcomed me as AdaMazi." Surely, for believing in this nation, for investing her time and energy in it, for standing by it during one its trying periods, as well as saying good of it in Washington, Nigerians thank Robin Sanders too, and wish her well - wherever the wind of her diplomatic career takes her.
Ajibade, a Consultant Writer, lives in Abuja.
Disclaimer:

"The views/contents expressed in this article are the sole responsibility of the author(s) and do not necessarily reflect those of The Nigerian Voice. The Nigerian Voice will not be responsible or liable for any inaccurate or incorrect statements contained in this article."
Articles by thewillnigeria.com