Sokoto INEC Needs Aver 7000 Adhoc Staff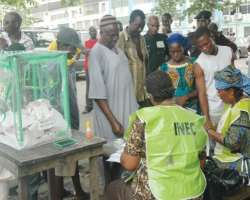 SOKOTO, August 29, (THEWILL) – Sokoto State Resident Electoral Commissioner of the Independent National Electoral Commission (INEC), Alhaji Hussain Ahmad Mahuta has said that over 7000 ad-hoc staff will be engaged for the registration exercise in the state.
Addressing reporters in his office yesterday, INEC Commissioner said the bulk of the adhoc staff will come from corps members in order to insulate the exercise from the influence of politicians.
He said the commission is geared towards conducting free and credible elections based on a dependable and permanent voters register as provided by law, adding that the state has 3,035 registration centres and the commission would provide 3035 Direct Data Capture Machines to enable it organize the registration exercise in every polling unit of the state simultaneously.
The commissioner described the registration as a herculean exercise considering the size, population and other social and political conditions of the country.
According to him, the commission is determined to compile a new permanent and credible voters register, since it is the minimum for conducting free and fair elections.
"We have no illusion that fresh registration of voters in this short period will produce a perfect register, however, we promise Nigerians a register that is vastly more trustworthy and capable of producing free and fair elections than the existing one," he stressed.
He also assured that it is no longer going to be business as usual, stressing that the commission will deliver an electoral process within the very short period available and called on stakeholders, especially security operatives, media and civil society to collaborate with the commission in order to achieve the desired goals.