ARMED FORCES PERSONNEL WILL REMAIN INVOLVED IN INTERNAL SECURITY OPERATIONS – DEFENCE MINISTER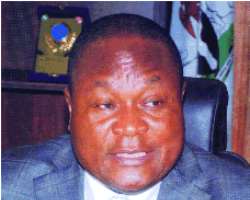 Minister of Defence, Prince Adetokunbo Kayode, has been in government long enough to understand the dynamics. He was minister of culture, tourism and national orientation. Also, he was minister, labour and productivity as well as minister of justice.
The minister, who is a senior advocate of Nigeria (SAN), could be regarded as a man of many parts. Prior to his appointment as minister, in 2007, he had served as a board member in many law and judicial related establishments. He is an active member of the Nigerian Bar Association (NBA), where he was once first national vice president and has been a member of the National Executive Council for about 12 years now.
Interestingly, Kayode refers to himself as one of the 'early settlers' in Abuja, having carried out his national youth service in the city in 1982. After his youth service, he remained in Abuja to practise law. He says he is encouraged in his new assignment because of the level of professionalism in the various services.
I am motivated to work
I would like to confess that this is the first time I can easily say I'm enjoying my appointment as a minister, in the sense that I'm dealing with professionals. When I was in the Ministry of Justice, I could have said that, but I spent only four weeks there. Now I'm dealing with professionals, whether they are in the Navy, the Air Force or the Army people who know their onions; people you can engage intellectually, who have a tradition of sanity, respect and discipline.
I believe that I have a duty now. I can say yes, I' m willing. I feel enabled to come to work. I feel a double challenge to work very hard with the top echelon of the Services to help reposition them. I have a duty to assist in order to achieve the dream of repositioning the Services to conform to the realities of the 21st Century armed forces. So, immediately I came in, working together with my colleagues, we set up a committee to review and update the transformation agenda and also prepare a work plan for the implementation of the agenda.
Working the vision
The work plan has gone to government at the highest level for endorsement so that we can begin to move on very quickly. This is very important because though the services are traditional institutions, they still must move with time; they must modernize, especially now that the thinking all over the world is that there should be a fusion between the services, that there should be a migration towards having a unified military; a situation whereby the Army, Navy and Air Force will not really have any particular line dividing them; whereby in any operation or mission they have to carry out, they work together as a team. Of course, it is almost impossible to imagine that the Army can move to any theatre of war without the support of the Air Force or the Navy. But now there is a tendency to talk of a joint force. This is the new way of thinking.
My vision is clear
If we look at the challenges facing the services, it is almost overwhelming, but with the transformation agenda you find out that all of us are on the same page. We can now begin to look at the minimum requirement to standardise and modernise the services. Then we begin to move on from there. Then we can ask ourselves questions, like, 'what are our future commitments towards the Peace Support Operations (PSOs) that we are involved in? What are the internal security issues that we would be contending with?' These are the issues. In the same vein, what are also the contributions of the services to their immediate communities, because this is also a very critical mandate of the services. Wars rarely happen; so in between training and what may or may not happen, what will the personnel be doing? We want to re-orientate the services in such a way that, during the time of peace, people will feel their value even more. So, where we have engineers, doctors, and other professionals in the services we would be able to impact positively on the communities, help the institutions around them, help build infrastructure, help mould children, provide good examples and leadership. It is very easy for me to paint a very clear vision of what I think the services should be and I will do my best on that from this seat.
Direct labour initiatives
When I was briefed by the Chief of Army Staff on the direct labour projects of the Army, I did not disbelieve him, but then it was very difficult to believe that in the service such a monumental achievement could be made. But when he spoke to me he was very sure of himself; he had confidence in what he was talking about. So, I said fine, let's go on. I went to visit the premises of the barracks. I was very happy; that's why I proceeded immediately to brief Mr. President and I respectfully requested him to come around to at least give support. You know that kind of presence is very important to lift the spirit of those who are doing the work, to give support by flagging off the first phase. And, of course, I also visited the 44 Nigerian Army Reference Hospital in Kaduna.
Again, I was very highly impressed about what was being done. It is very clear to me that if properly positioned and supported and the vision properly assimilated, the professional corps within the services can do a lot and you can see that I have underscored it by saying, 'look you can do a lot more for the community.' If the 44 hospitals can be completed later this year or early next year, it will not only serve the soldiers, or the officers. It will also serve the community. Again, with the knowledge gained now, they can come in and do a lot of work.
During my recent visits to Sierra Leone and Liberia, I went with the Commander, Engineer Corps, who is the Managing Director of SAPPERS, to sell the idea of SAPPERS to Sierra Leone and Liberia and encourage them to develop their own capacity. I encouraged our own people to export their knowledge to people who are partners with us, then see how all of us working can help develop both the military and civilian infrastructure. This would run like a business.
Social responsibility
I have other desires. One of my secondary desires is to ensure that wherever we are involved in peace support operations, we have a tactical correct exit strategy. So that when we are leaving, we leave something very useful that will be mutually beneficial to us and to our hosts, who will have contributed so much, in terms of money, in terms of lives to stabilise, rather than just leaving them on their own in those theatres. We will not allow them to regress, but we will also take some advantage from the experience. That is actually the policy that we are trying to develop. We will soon decide on the tactics of our peace support operations. We won't just be going for it because it is fashionable, or because United Nations says we should do it. But we must have tactics for peace support operations and a strategy for our peace support operations, whereby when we go in there, of course, we are going to exert ourselves, but we must also have some compensation.
Revamping military infrastructure
The Nigerian Army Central Workshop at Rigachukun, Kaduna is a revelation about what Nigeria could have been, because I believe that workshop was conceived about 25 to 30 years ago, and when I went there, I saw equipment that were still in their crates. I saw generators that were just being installed after they had been delivered to that site more than 25 years ago brand new, but old equipment. But to me, we don't need to cry over spilled milk. What we need to do is to move on. There is an outfit in Kaduna, the Air Force Institute of Technology. It is a fantastic idea, because that will help to really train highly qualified people as ground staff and other technical staff for the Air Force. Not only will they be able to train people for the Air Force, it will also help the civil aviation sector. It will also help our neighbours; of course, for a fee. The same thing with aeronautical engineering services, which is a means of looking inwards to actually, on our own, repair some of our Air Force platforms. It is a good thing, of course; it's just starting. That is why they have to be very careful how it is being done.
We are setting up a committee to reposition DICON (Defence Industry Corporation of Nigeria). There's already a consensus with the service chiefs, the minister of state and myself and the permanent secretary in the ministry to reposition DICON. We want DICON to run as a business. Today, DICON is 46 years old, but it's running like a factory. The concept was wrong from the beginning. It should never have been operating like a factory. It is a business. It is a holding company. It is like a regulating body. It is to encourage people to do business under licence from it. My vision is that in the next five years there should be 200 companies under DICON. One manufacturing tyre, another doing re-enforced glass or bullet proof glass, steel sheet, strong suspension, clothing, just every aspect of military logistics, whether it is the ammunition side or other softer sides. It is possible. That's what other countries are doing, and we are going to do it.
Conditions of service
I know that there are concerns about the health sector within the services, about the desire to pull out of NHIS (National Health Insurance Scheme). The same thing with the proposed Harmornised Terms and Conditions of Service 2010 (HTACOS). I have made it clear that I will look at the issues when I have confirmed them. We have achieved a consensus and then we'll create a platform very soon for us to aggregate the views of all of us because some people are opposed to the new HTACOS. They believe it is unfair. We do not want that; rules must be made to apply across the board with equal impact for everybody. But as of today, at least since we came in, I believe we have stabilised the application of HTACOS 2007; now there is no more favouritism.
Issues of retirement
The moment you get to your Run-out-Date (ROD), you go. When you are supposed to get your six-month notice of retirement, you get it. But whether you put in, or not, you go at the end of your ROD. I think the services agree that we have stabilised that part of it and we did that within the first 60 days of moving into office. In addition to that, we also want to encourage those who are highly trained, because a lot of people in the services are highly trained. I saw a CV of a Brig Gen, who has six degrees. I can't remember the last time I heard of anybody having six degrees, including a PhD. Now, officers are worried sick about retirement. That's why there is a lot of struggle about the issue of retirement. They don't want to go. I understand. But I want officers to have confidence that when it is time for you to go, you go with honour, with pride, because you know that the next day you can remove your uniform and proceed to Defence industry and you'll still be working for this country. You will still be carrying your rank, only you will write retired in front of it. You will not be wearing uniform until we call you if there is any emergency.
I want to develop the structure that will make the average officer in this country proud. And when I say officer, I mean anybody, whether he is a rank and file or commissioned officer, to have confidence that when he is leaving the service, he can key into an aspect of the work of the opportunity that will be created if we can diversify DICON. We can also diversify other services; security related services, just like others in the private sector. This is what other countries are doing. Countries that are slightly better than us and we can copy them; adapt their circumstances to ours and then move on from there.
Withdrawal from Internal security duty
Let me make one thing very clear. The military has a constitutional role to play in internal security. They have a constitutional responsibility to support the government, in times of emergency and Mr. President has the constitutional power to direct and command the services to support whichever internal security operation. So, that is why the services were invited to support the police in Jos and other areas, where they have done that. That's part of their constitutional responsibility and the services have a duty to obey the instruction given to them by Mr. President under the constitution.
Having said that, I feel, first of all that we should all be very proud of the work done by the Nigerian Armed Forces in the Special Task Force put in place in Jos, as well as the JTF (Joint Task Force) in the South-South and in other places, even the OPERATION MESA, which is operating all over the country. The Nigerian Armed Forces are not going to pull out of these operations at the moment. They would not pull out from there because they were not sent there for the fun of it. They were put in place for a purpose.
Immediately government considers that the purpose has been achieved, they can then begin to exit tactically. But for the moment, government will keep these operations in place and everyday enhance them to ensure there is peace in this country. We can only succeed, develop the country and have a successful democracy if there's peace. The economy would not grow if there is no peace and people would not be happy. But they will be empowered; they will eat, and they will be healthy, if there is peace. The purpose of deployment of the Services for internal security is to ensure there's peace.
Any cause for Army to celebrate?
Nigerian Armed Forces has every cause to be proud. In fact, the uniform of the Nigerian Army is a uniform we should wear with pride because it has brought a lot of honour to this country. The only serious problem we have ever had was the civil war, but the Nigerian Army performed very well and was able to unite this country. Secondly, the Nigerian Army continues to serve this country with pride and honour in PSOs all over the world, not only in Africa. Nigerian Army has continued to provide some of the best brains in this country, and they are excelling in so many areas, and then, of course, when you talk about internal security, they are contributing substantially to keeping this country from exploding and so we have every right to be proud. Because we are enjoying relative peace, we do not really value what our services are doing, and it is wrong for anybody to say that we do not have any cause to celebrate. If you want to know those who value peace, go to Afghanistan or even Pakistan today. They know the meaning of peace. We cannot, but say it is the army and the rest of the forces that actually have assisted to do this. So, because of these, I think they have the cause to roll out the drums and I will be part of that celebration.
My brand of politics
First of all, I am not a politician, in the sense in which the average politician has been painted in bad colours. They have been seen as corrupt and jobless. I am not any of those. I am just a professional in politics. Professionally, I am a Senior Advocate of Nigeria (SAN). I still read my law books; and after this assignment, which is a privilege and I am proud to serve, I'll go back to my chambers. Yes! I am a member of a political party, the PDP….I go to the village and do some politics.
How I relax
Well, relaxing generally, I have tried to play golf, but I am a perpetual bencher. I have been a member of a golf club in Abuja since 1992, that is about 18 years, but I have never really played one game. But I jog and I read and also hang around with friends.
- Culled from New SOJA, a magazine published by the Nigerian Army. Interview was conducted by the magazine's Editor-in-Chief, Brigadier General Chris Olukolade; Major K. M. Samuel and SSgt Ephraim Udofiah.