Gastro-Enteritis Kills 16 In Katsina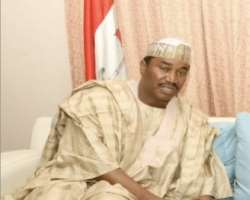 PHOTO: KATSINA STATE GOVERNOR IBRAHIM SHEMA.

KATSINA, August 26, (THEWILL) - Sixteen (16) persons have been killed by suspected gastro-enteritis and 226 others have been hospitalized in Funtua and Kankia local government councils of Katsina State.
THE WILL correspondent who visited some of the affected villages in Funtua reports that some voluntary organizations such as Islamic Medical Association and Hospital Friends are providing free medical treatment to affected persons.
The most affected area by the disease in Funtua include Sabon Gari, Bisije, Bagai and Salau Kara.
The State Health Commissioner, Alhaji Aminu Jamo Daura confirmed the outbreak to reporters and assured that government has put measures in place to curtail the spread of the disease to other areas.
According to him, "We are holding emergency meeting on the issue to deal with the situation" and explained that government will come up with details on the number of people who died and those affected by the disease.
It was revealed that temporary camps have been erected at the two local government areas for treatment of those affected by the disease in view of ongoing strike action embarked upon by health workers in the state which has entered its third week.
Council Chairman of Kankia Local Government Council, Alhaji Bishir Baba Kaita confirmed the death of the six people due to the outbreak of the disease, stating that the council has procured drug worth N300, 000 for the treatment of affected people while aid groups have been mobilized to provide free treatment.
About 10 people were reported dead and 176 others hospitalized while in Kankia, the outbreak of the disease was reported at Rimaye and Tashar Gamji villages where six people were confirmed dead, while 50 others have been hospitalized.
Addressing reporters after visiting the temporary camp, District Head of Funtua, Alhaji Idris Sambo appealed to the state and federal governments to urgently come to the aid of those affected.