DINING AND WINING WITH ROYALTY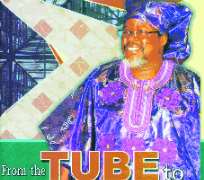 At 60, it is, indeed, fitting for ace broadcaster and the man synonymous with the public image of His Royal Majesty, the Ooni of Ife, Oba Okunade Sijuwade, to tell his story.
It would have been a disservice to society, to broadcasting, to journalism, and to royalty, if Funmilola Olorunnisola had kept his peace, and not caused this story to be told. Humanity would have lost the grand opportunity to be informed, to be educated, entertained and inspired. For that is what you get after reading 'From the Tube to Royalty.'
Writing in collaboration with Sola Ojewusi and Tony Olutomiwa, Olorunnisola has told the story of his life in clear, simple, lucid language. And he told it warts and all, not leaving out or colouring anything. When a man tells his own story, including successes and failures, then you can be sure of his sincerity.
'From the Tube to Royalty' is in six chapters, and then there is a postscript, which attempts to periscope into the future, not just of the man, but of his beloved profession - Journalism.
If anyone else, other than the revered Oba Okunade Sijuwade, had written the Foreword to this book, I would have been surprised, shocked and even scandalized. To the younger generation, the mention of Funmilola Olorunnisola is synonymous with the Ooni of Ife. In fact, they would think he is a son to His Royal Majesty. And a son he may well be, as testified to by the monarch himself in the Foreword. 'I see him as son, confidant and dedicated servant of the Yoruba race.' Olorunisola may need no greater testimonial.
Who is this man with a feminine name, Funmilola? How did the name come about? Surely, he must be a thoroughbred Ife son, to be a spokesman to the Ooni. All these questions, and more, are answered in this book.
Where else to begin but from the beginning. And that is the title of Chapter One. The Beginning. Every man has a root, and that is what we are let into here. Samuel Onifade Ajomale, an illustrious Ijesa, who shuttled between Gogo Ekiti, Osogbo, and his homestead in Ijebu-Jesa. A man who married many wives (five to be precise), but who ruled his household with firmness and compassion. A man of means, who started from itinerant tailoring) to become a wealthy transporter, and the first person to build a house using corrugated iron sheets for the roofing.
The first man to buy a Raleigh bicycle in his town at the time, and who was usually the cynosure of all eyes as he rode past. And the people would mutter: Bo ti wun Olorun ni nsola (God works in mysterious ways). He inscribed that saying on the door to his house, and eventually, it became a nickname that crowded out his original name.
To that colorful personality was a son born on July 21, 1950. They named him Olasunkanmi Akanmu, after the then Olubadan Aleshinloye of Ibadanland. How did the name Funmilola then come? Don't be anxious. The story will be told later.
Childhood fascination with the radio, popularly called redifussion then, should have indicated the young boy's future calling. But that secret was yet hidden in the womb of time, and his parents did not know that they had a top broadcaster on their hands. He also had a fascination for the gramophone, and photography. In fact, he calls himself a 'photo freak,' and all photographers in Osogbo, where he later continued with his education, knew him well.
Early Education is what Chapter Two focuses on. From African Church Primary School, Ijebu-Jesa, and later to Osogbo. Of course, which child will forget the aroma of his mother's soup? Definitely, not Adetomi's eba, egusi soup and panla. Your mouth will definitely water as you read this portion of the book. Which young boy did not engage in pranks? Boys will be boys, as they say. But what did young Funmilola earn one day from his pranks? A broken arm and broken tooth.
At baptism, he was named Titus, thus making his name Titus Olasunkanmi Akanmu Olorunnisola. But how did Funmilola come? Patience, patience. You will hear the story. As a young pupil, our Olorunnisola was outstanding in drama, and the arts generally. But he struggled with mathematics. As if that is news. How many of young pupils didn't?
After a detour at what was then known as Modern School, the famous Christ's School, Ado-Ekiti, beckoned. Typically, he was a man of the liberal arts, but continued to flunk his mathematics, nice and steady. From that school, he developed relationship by mail with people like Tai Solarin, Sir Odeleye Fadahunsi, the then governor of the Western Region, and Kwame Nkrumah, the legendary Ghanaian leader.
Now, what you've been waiting for. The name Funmilola. Titus Olasunkanmi Akanmu Olorunnisola wanted 'a pleasant sounding name with universal appeal and unisex meaning.' He first tried Funmilayo, but he discarded it 'for want of enough pizzazz.' (Incidentally, his first wife would bear that name many years later).
Again, he tried the name Funmilade, but the name had 'little zing.' Then he zeroed in on Funmilola. Eureka! The name had 'energy, punch and vigour.' A brand new young man was born.
Chapter Three dwells on Higher Education. After a stint as teacher, Funmilola proceeded to Yaba College of Technology, and because he desperately wanted to leave teaching, he opted for the first course that came his way. Secretarial Studies. But, he didn't like the course, and he would later drop out, to study Yoruba at the University of Lagos. The course was hardly a fashionable one at the time. It did not have 'enough pizzaz,' it had 'little zing,' but Funmilola stayed glued to it. Among his lecturers are perhaps some of the best this nation has produced in the field. Professors Adeboye Babalola, Wande Abimbola, Afolabi Olabimtan, Akinwunmi Ishola, and many others.
Life as undergraduate exposed him to the activism of EbinoTopsy, as Ebenezer Babtope is widely known. He also got to admire the late sage, Chief Obafemi Awolowo. His love for drama and music equally took him into the Palmwine Drinkers Club, or Kegites, as they are known.
Every young man must develop a saving habit. Ask Funmilola, and he will tell you how hunger almost gave him facial marks one day, as he was completely broke, out of pocket. He could not concentrate in the lecture room, as the drumbeats of hunger in his tummy made him deaf to every- thing else. He then went to the Students Union Building, thinking maybe he could be lucky. And lucky he was.
There on the table, were two tins of unfinished sardine, and leftover bread. Some other students had apparently had their fill, and abandoned it. Different strokes for different folks. Funmilola first had a hearty laugh, and then settled down to business. It was one of the most delicious meals he ever had in his life.
A fortuitous meeting with Chief Adebayo Faleti, a renowned Yoruba broadcaster, would shape his destiny for life.
Graduating from Unilag in 1973, all roads led to the tube. The title of Chapter 4 is 'The Road to the Tube.' Faleti, with whom he had kept in touch for many years, invited him for audition at WNBS for a temporary job. He lost to one Oyebanji Badru, not by fair means, but simply because that one had been brought by someone senior to Faleti. Later, when WNTV/WNBS was set up, he responded to an advertisement in the newspaper, was tested, and as they say, the rest is history.
This book chronicles Olorunnisola's odyssey from a rookie broadcaster to being a household name. He learnt the ropes under masters like Kunle Olasope, Anike Agbaje Williams, and Yemi Farounbi. From WNTV, to NTA, to TSOS, office politics, partisan politics and efforts at censorship, all are recorded for posterity in this book. How did he relate with the then NPN government in power at the centre? How did he relate with the UPN government which had set up TSOS, and invited him after he had been frustrated out of NTA? How was he eventually sacked by the Omololu Olunloyo NPN government from TSOS, and how he was recalled and he rejected the offer?
All these are detailed in this chapter. Of course, his giant strides at NTA, introducing programmes that became compelling for viewers, after a training course in Holland, are equally documented.
Ijesa de! You can't miss this hilarious story in Chapter 5, entitled 'Spokesman of the House of Oodua.' From seeking to handle the public relations of Sijuwade Holdings, the Ooni of Ife, Oba Okunade Sijuwade, invited Olorunnisola to manage his own public image, as well as that of the palace. And that was the beginning of a journey that has lasted 25 years, in which the man has wined and dined with royalty, and also experienced ups and downs, alongside his principal.
Who dares bang the door on the Ooni? Who dares walk out on the esteemed monarch? Ijesa de. Read the account of teething problems Olorunnisola had in settling down at the palace, and knowing the ways of royalty. But like a father, the Ooni patiently waited and tutored him on the ethics of the palace.
Also, read about how Olorunnisola stood by, and with, the Ooni through three turbulent events. The June 12 election annulment saga, and how it was allegedly misreported by the media, the Modakeke war, and the assault on the late Chief Bola Ige at the Ife palace. All these are revelatory, and good resource material for newsmen.
Deriving from the coverage of the Ooni's role in the battle to revalidate the 1993 June 12 elections, Olorunnisola describes journalists as 'character assassins.' This is rather hard to swallow, but it may have accounted for the postscript, in which he looks at the state of the journalism profession, and he stressed the need for decent pay, and good training. But if journalists are 'character assassins,' then we should remember the saying, 'when you point a finger at somebody, the remaining four are pointed at you.'
The final chapter is on the family life our subject. His first marriage to Funmilayo, which broke down after many years of childlessness, the second to Folasade, and the third to Toyin. The floodgate opened, and the children came in their numbers. I think in this chapter, the author tried too hard to justify his foray into polygamy. The happy thing, however, is that the family lives happily. Will a fourth wife come? The answer, as they say, is blowing in the wind.
Is this a perfect book? Outstanding, yes, but not perfect - A few proof reading and spelling errors here and there. And in defending his principal against attacks from the Awujale of Ijebuland on the June 12 saga, the author lets his emotions get the better of him. He says the Awujale used 'gutter language,' and you begin to ask yourself if it is not gutter language in itself to say an Oba used gutter language. But by and large, this is one finely written book, entertaining, easy to read.
It should gladden the hearts of as many as would read it.