Otedola: AP Staff Storm SEC Office, Allege Mismanagement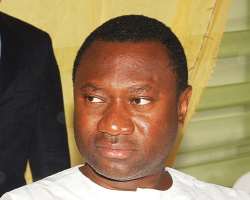 PHOTO: EXECUTIVE CHAIRMAN, AFRICAN PETROLEUM PLC (AP), MR FEMI OTEDOLA.

ABUJA, August 25, (THEWILL) – Some employees of African Petroleum Plc (AP) say they are tired of the manner the firm is being run by Executive Chairman, Mr. Femi Otedola.
The angry protesting staff of the troubled oil giant today stormed the corporate headquarters of the Securities and Exchange Commission (SEC) in Abuja over allegations of mismanagement preferred against Mr. Otedola.
The placard-wielding staff who arrived SEC at about 9.30 am, said the protest was against the prevailing maladministration of the firm, which they said has stretched them beyond limits.
But Mr. Lanre Oloyi, SEC's spokesman who received the protesters assured them that the commission had already started looking into a petition earlier forwarded to the regulatory body and would soon make its position public.
He stated that Director-General of SEC, Ms. Arumah Oteh was away on official duty when the protesting staff stormed the commission, but had before now constituted an investigation committee to examine every issue raised in the petition.
"As a responsible regulatory agency, the commission would not spare any resources but would ensure that at the end of the investigation, whoever is culpable would be given appropriate sanction," Oloyi said, adding that the commission was on top of the situation to ensure that investors and shareholders' interests are protected at all times.
According to him, "The issue in question is that we received the petition and the commission has actually set up a committee to look into these allegations.
"We are still working on it. The market that we regulate is rule based and the Securities and Exchange Commission will not settle for anything less than to ensure that the rules of the market are complied with," Oloyi assured.
"Comrade Jegede Haruna who led the protesting staff said, "We are protesting on behalf of the AP. Enough is enough for Otedola. He has been "eating" for the past two years and this should stop."