I WAS SATAN'S DEPUTY ON EARTH – PROPHET DAGUNDURO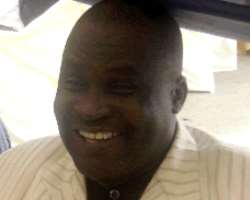 Prophet Gabriel Dagunduro is the General Overseer of Rapture International Evangelical Ministries, Ilesa, Osun State. He is a renowned man of God known for his wonderful testimonies on how God arrested him while doing exploits in the kingdom of darkness and brought him to His marvelous light.
In this interview, the prophet revealed his activities in the kingdom of darkness and how he died and woke up from the mortuary after 74 hours.
Satan's deputy on earth
I was working with the Nigerian Television Authority (NTA), in the technical department, I rose to level 12 before I resigned to do God's work. While in the service, I was into occultic practices. I acquired much power that I was nicknamed satan's deputy in the kingdom of darkness. Satan gave me over 3,000 evil spirits which I was operating with. I used to do many negative things that were not pleasant to the ears. I brought tears and sorrows to mankind before I was arrested by Jesus Christ.
How I was called
It was in a revival programme in the Christ Apostolic Church, headed by Prophet Abiara when I saw a vision that God gave me a candlelight. God instructed that I should show the light to the world but warned that I should confess my wickedness and denounce the power of darkness. I was ashamed to obey His instruction until He warned me seriously that I would soon be confined to a wheelchair. God instructed me to tell people the implication of acquiring demonic powers.
Died and came back to life
One day, I was watching the television and the light went off, I took a lantern and poured kerosene into it, unknown to me, the kerosene was mixed with fuel. As I ignited the matches, the lantern exploded splashing kerosene on my body and the whole house was on fire. I managed to rescue my family but something happened. As I was thanking God that my family had been rescued, I saw my mother-in-law crying and pointing to the house. She told me that my youngest child, Ayobami, who was then two years, ran back to the house. I summoned courage and ran to the house. At the sitting room, the television exploded on my face and I became blind but I was determined to save my child and myself. I succeeded in bringing him out but that was all I remembered as I went into coma and was rushed to the hospital. I passed out and the doctor confirmed me dead and I was wheeled to the mortuary.
In the morgue
While in the morgue at the University Teaching Hospital, Ibadan. I was put together in one tray with another man in the mortuary. Arrangement was made for my burial and they bought coffin. Miracle happened on the day the owners of the other corpse came to carry the body, I sneezed and the cotton wool in my nose fell off, the mortuary attendant took to his heels. He later came back with other people and I was taken back to the hospital. The hospital became Mecca of sort as people started trouping to the hospital to see the man who came back to life. A specialist advised that I should be moved to a private hospital, where I spent 72 days before I recovered fully.
Heaven and hell are real
Heaven and hell are real. When people die, they would either go to hell or heaven depending on their works on earth. I died and came back to life. I saw heaven and hell during my sojourn in the world of the dead. I communicated with angels and I knew all the things they told me.
Signs of end time
The word rapture is real, all the natural disasters you see happening all over the world are signs of the end time. The Tsunamis, Hurricane, plane crashes and climate changes are signs that rapture will soon take place.
Abortion
In the spiritual world, the rate at which the world is spilling blood through abortion is grieving the heart of God. Abortion to God is abomination. He is angry at abortionists. All fornicators and adulterers, thieves and killers, especially assassins will go to hell fire.
Advise for our leaders
I will advise them with the word of Jesus Christ in Matthew 6:19-20, Gather your treasure into heaven where termites will not destroy it. Lay not up for yourself treasures on earth, where moth and rust doth corrupt. Jesus is warning our leaders to stop stealing and stashing away our money to their personal purse. They should use the money meant to enhance humanity for that purpose. Any leader who steals money is heaping a curse upon himself and his generation yet unborn. What shall it profit a man to gain the whole world and loses his soul in hell?