Militant Leader Murdered In Rivers State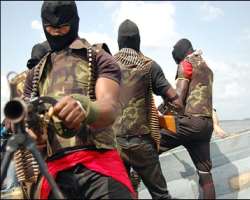 San Francisco, August 24, (THEWILL) – One of the militants who was leader of a group, 'Outlaws', Mr. Saboma George was today feared killed by unidentified gunmen as he made his way out of a soccer field around Nembe Street in Port Harcourt, River State.
Saboma George had gone to play soccer with aides and friends.
Unconfirmed reports said two aides in his company were injured while two other females who were with him were also murdered.
Mr. George accepted government's amnesty deal which was initiated by the late President Umaru Yar'Adua.
Rivers State Police Command spokesperson, Rita Abbey told THEWILL that the Force had received reports of the shooting and confirmed that Mr. George had been killed but added that they were yet to see his remains to enable the police formally confirm his death.
THEWILL gathered that security forces have started an investigation to ascertain the motive behind the murder, though some analysts believe Mr. George may have been killed by a rival militant group for either political or business interests.
It is not clear if the killing would affect the relative peace and sanity in the region following the success of the amnesty deal in the often hostile Niger Delta.