EBONYI BONE CENTRE THRIVES WITHOUT FACILITIES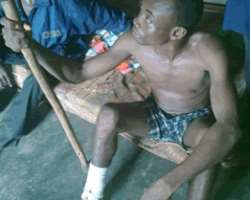 75-year-old calligrapher
For many, the orthopedic hospital is the only conventional centre for the treatment of fractured bones, but not so for the people of Enyanwu Igwe Nwofe Agbaja Community of Ebyia in Izzi Local Government Area and their neighbours in Inikiri Umuezeoka Effium in Ohaukwu Local Government Area of Ebonyi State.
The people of these communities have their own peculiar way and hospital where they receive medical attention whenever they have fracture or any other related bone problem.
When Daily Sun visited the Enyanwu Igwe Nwofe Agaja community recently, its local orthopedic centre was filed to the brim with people who had come to the centre to treat their fractured bones.
The centre, which was established over 20 years ago, still lacks necessary clinical equipment and other facilities.
Though the centre also lacks basic amenities like water, electricity and good roads, the management has in the face of all odds tried to carry on.
The man in charge of the centre, Mr Egbe Nwamini Oru, a native doctor, who is a specialist in the treatment of all forms of fracture, rickets and dislocation, disclosed that he started to treat human bones since his childhood, adding that he learnt the act from his late father.
He said that the centre which started since 1983 has treated patients from different parts of the country, mostly people from the South-east and South-south, that is, Imo, Delta and the various local government areas of Ebonyi State.
According to him, his patients who had returned to their various destinations would always have a lasting testimony to share about the miracles that occurred when he treated them.
Daily Sun gathered that over 30 patients are currently being treated for various bone problems and they are optimistic that their bones would receive absolute treatment. Some of them revealed that they sustained various fractures or dislocations owing to auto and Okada accidents.
However, some of the patients who spoke with Daily Sun appealed to the state government and well-meaning Nigerians to come to their aid as the centre lacks manpower, accommodation, potable water, electricity and medical personnel.
The Speaker of the Ebonyi State House of Assembly, Rt. Hon. Augustine Nwankwegu, who is from Enyanwu Igwe Nwofe Agaja community noted that orthopedic work remains very vital to the sustainability of the human life, adding that he would work assiduously to ensure that meaningful development and socio-economical attention get to the centre.
He said that he was encouraged to find a young man who is determined to make use of his God-given abilities towards the sustainability of the human life.
Nwankwegu urged young men in the state not to relent in using their God-given abilities to affect human lives positively, saying that the state House of Assembly would not resist any law by the executive or public to assist people in that category.
His words: 'Young men with abilities should ensure that they put it to work instead of remaining idle. When you see your gift, pursue it. The State House of Assembly will not resist any laws that will assist persons in that category. Ebonyi State government has been supporting missionary hospitals in the state and so, this case will not be different.'
Apart from the Izzi centre, there are others located at different parts of the state which include the Ogboji bone repair centre where over 5000 people from different parts of the country have received attention and the Inikiri Umuezeoka Effium repair centre where one Mr Anslem Nwite holds sway as the bone specialist.
When Daily Sun visited Inikiri, there were patients who had come from all parts of the country with different degrees of bone problems ranging from legs, ankle and hand injuries.
At the centre, Mr Friday Nwite Umoke who was involved in a motorcycle accident in Lagos and broke his two legs was seen having the shattered bones gathered together by the native doctor as he reset them.
'I had accident when I was doing Okada business in Lagos at Sango Otta in Ogun State at the Otta flyover and the car that hit me smashed my two legs that all the bones were scattered, it was one of our brothers there that used polygene bag and picked some of the scattered bones and brought them home when I had stayed one week here.
'Nobody that saw me that time will agree that I will ever use these legs, even I myself never believed that I will use these legs again, but I thank God for using this man to do great work in our days,' he said.
In a chat with Daily Sun, the native doctor, Mr Anslem Nwite, who does not have any formal education, said that he had the inspiration from nature and can set any bone no matter how complicated it is.
Conditions for treatment
Nwite said that his work is not profit-driven, but aimed at bringing succour to those who have lost hope, saying 'I only ask them to bring a tuber of yam and a token fee to enable us get some herbs that cannot be seen around here.'
He also said that his patients while undergoing the treatment have some does and don'ts which, he said, include that any patients during the resetting of bones must not hold him by the hand otherwise the problem will continue.
'What I mean is that a patient, when I want to check him or her in the morning or any time because we also have ward rounds must not hold me by the hand during the resetting of the bone and also the patients are not allowed to engage in any sexual activity during the medication either when the person is still here or discharged,' he said.
Collaborating with a medical doctor
He said that he is currently working with a medical doctor, Dr Innocent Ifere, who according to him, first of all injects antibiotic into the spine of the patients to prevent them from bacterial attack.
Speaking to Daily Sun, Dr Ifere said that he sought for the services of the local bone expert when he found out the type of quality repairs he was doing.
'I think he is God-sent because some of the critical cases he handled here were the cases that would have ordinarily resulted to amputations if the victims went to orthopedic,' he said.
Inspiration and government assistance
Nwite said that he inherited the feat from his father who is now late and maintained that he has been doing it with vigour to make sure that the talent does not stop, adding that he will bequeath the same to his children.
'My father did the same work which I am doing now; in fact, it is in our linage as his own father did the same. My father, the late Nwite Onoshi was well known for bone repair as such I am stepping into the shoes to make sure that the talent does not die in our generation by making sure that my children get it going,' he added.
On government assistance, he disclosed that the government has not really cared about them, saying  'maybe because we are in the rural area, but I want to appeal to the state government to come to our aid by assisting us in so many areas like the provision of some basic amenities.'
When contacted, the Chairman of Ohaukwu Local Government Area, Hon. Sunday Inyima said that now that the centre has been identified he would work in consonant with the state government and Ministry of Health to help them.