BANKOLE, OUR ADOPTED SON – EMIR OF KANO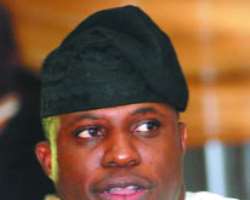 Emir of Kano, Alhaji Ado Bayero, has described Speaker of House of Representatives, Mr. Dimeji Bankole, as an adopted son of Kano State. 'The Honourable Speaker takes me as his father, so we in Kano also see him as our son. He has been very close to us here and he identifies with whatever we do, he is part and parcel of the people of Kano. So, he is one of us,' the emir said.
Bankole had paid a courtesy call on the emir at his palace on his way to Bauchi to condole with the people and government over the passing away of the Emir of Bauchi.
Bayero recalled the good times he had on his way from London when he boarded the same flight with the Speaker, adding that they both chatted heartily, discussing various issues, until they arrived Nigeria.
'Despite the fact that we are in the fasting period, he still came all the way from Abuja to see me and my people here, before heading for Bauchi. I really commend him for this,' the emir added.
In the spirit of the month of Ramadam, the highly revered traditional ruler subsequently asked the Chief Imam of Waje Mosque, Ustaz Nasir Mohammed Nasir, to offer special prayers for President Goodluck Jonathan and the Speaker for Allah's mercy to continue to lead Nigeria on the right path of true nationhood.
The Speaker was accompanied on the visit by Mr. Mohammed Bature, Chairman House Committee on Foreign Affairs, Mr. Abdulrahman Kawu, Deputy Minority Leader and Sani Abdul.