BABY WIFE: PROSECUTE YERIMA OR RESIGN, GROUP TELLS AGF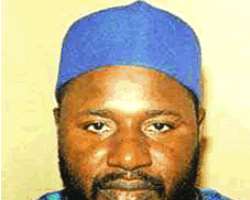 Yerima
A civil society group, Human Rights Writers Association [HURIWA] has called on the Attorney General of the Federation and Minister of Justice, Mohammed Adoke [SAN] to reconsider his position on the controversial marriage between an Egyptian child and Senator Ahmed Yerima or resign from office.
The AGF recently in Abuja said although Senator Yerima was irresponsible, he cannot be prosecuted. Speaking while on a courtesy visit to the Information and Communications Minister, Professor Dora Akunyili, Adoke said even though Yerima could be regarded as a pedophile, he can only be prosecuted 'on the basis of law'.
Adoke was reported to have said that 'the Child Rights Act was not meant for foreigners but for the Nigerian child. I will prosecute Yerima only in accordance with the law.'
Irked by the position of the Minister on the issue, the group said Adoke should reconsider his stand and immediately prosecute Yerima or resign from office. National Coordinator of the group, Emmanuel Onwubiko said the position of the minister was against the laws of the land as encapsulated in the Child Rights Act.
The rights activist said the AGF cannot usurp the powers of the court by pronouncing an existing law a nullity.
According to him, 'Article 16 of the International Covenant of Civil and Political Rights says 'everyone shall have a right to recognition everywhere as a person before the law'.
He argued further that 'If an Egyptian child is trafficked into Nigeria and allegedly married to a man old enough to be her grandfather and the act was found to run afoul of the provisions of the Child Rights Act where the said marriage took place, then the only rightful thing to be done is to prosecute such a man without looking at his status in the society'.
The group further said 'It is grossly wrong for the minister to say he cannot prosecute Senator Yerima because his baby wife is a foreigner. What is the meaning of that? Why is the child in Nigeria? The person who occasioned her presence in Nigeria has run foul of the law and the proper thing to do is to prosecute him. Her presence in the country amounts to child trafficking and the person responsible should be punished as prescribed by the relevant laws'.