FRESH VOTERS REGISTRATION WOULD CAUSE TENURE ELONGATION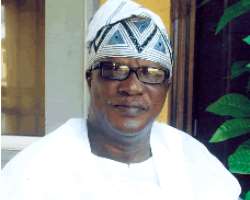 The Independent National Electoral Commission (INEC) should perish the idea of a fresh voters register if it intends to meet the January deadline for the 2011 general election, Chief Olajide Awosedo, a PDP governorship aspirant in Ogun State, has warned.
To him, there is no way INEC can embark on the compilation of a new voters register without asking for an extension of time. In the alternative, INEC will request for an amendment to the constitution. The end result, he argued, is that there would be elongation of the tenure of the present government, which should terminate on May 29 next year.
Awosedo said such tenure elongation would be unacceptable to Nigerians. Consequently, he suggested that the electoral body should make do with what is on ground by updating the voters register with the intention of improving on it in future.
He said: ' The life of the present government must terminate in May next year and moves to embark on a fresh voters register would prolong the tenure of the present executive which would be unacceptable to Nigerians.' He debunked the story making the rounds that Ogun PDP has zoned the 2011 governorship to Yewa because the zone has never produced the governor.
According to him, the Yewa zone has produced the longest serving deputy governor since the creation of the state. The PDP is not considering any move to zone the position of governor in the state so that the best candidate can win at the primaries.
He also spoke on the state of the nation.
What is your aspiration for the 2011 general election?
I am contesting for the office of governor of Ogun State on the platform of PDP.
What are your chances of winning the election?
Great. I am actually the issue now in Ogun State. Go out there and do your findings. I am the most qualified for the job. I am the man for that office. Go out and find out yourself. By the grace of God, I am the next governor of Ogun State.
There is the story in town that Yewa area of the state is expected to present the next governor because people from that area have never been governor of the state. You are from Ijebu area of the state.
If people clamour for Yewa for reasons of merit, I will understand. But if they clamour for Yewa for reasons of zoning, then I disagree. This is because zoning has no democratic antecedent. It is a line of least resistance. It is a line for lazy people. It disenfranchises the people from choosing the right candidates. There is nowhere in the world where democracy have developed and it is being used. The PDP used it earlier and they discovered it does not make any meritorious sense. So, the party is thinking of dumping it and there is no way it should come up in Ogun State. As far as I am concerned anybody who is Ijebu, Yewa, Egba or even Remo who feels he can do it should aspire to come out and do it. That is the way I feel and that is why I am in the race. I believe that I will emerge as the candidate.
Some people said the-power-that-be in the state decreed that a Yewa man must be the next governor.
I don't know of any power bloc in Ogun that people talk about. I am a leader of PDP at the local and state level. I can tell you authoritatively and emphatically that there is no such decision by PDP in Ogun State. There is no such power bloc in Ogun.
Is it true that Yewa has never produced the governor of the state?
Well, yes. Yewa Awori people have never produced governor. But they have produced the deputy governor for eight years. It is the first zone in Ogun that would be deputy for that long. No other zone was that lucky. The Remo was the first to produce the governor of Ogun for two terms non-stop. That is eight years. It has not happened since the creation of Ogun. The Ijebu were only governor for one term. The Egba were governor for one and half terms. The incumbent governor is Remo and his deputy is Yewa Awori and that is for eight years non-stop. No other zone in Ogun has been that lucky in Ogun. Not even Egba has been that lucky.
What do you suggest should be done to ensure a free and fair primary election?
The system has always made it difficult for losers to accept election results. It is because of the caliber of people that have contested for the office. The calibre of people out now is far better than those we had in the past. I can't see a do or die attitude in any of them. I expect the election to be free and fair.
Even at the federal level, we are talking of one-man one vote. You heard the chairman of PDP recently saying that there would be no sponsored delegate and no government official would be a delegate at the primary election. There would be no question of the governor influencing where the vote of the people must go. T he people's vote must count.
Do you think you stand a chance of winning?
I stand a great chance of winning. I am the issue in Ogun today. Anybody in Ogun would tell you that I am the candidate to beat. I can tell you that.
What is your political antecedent?
I started politics in 1993 during the SDP and NRC era. I was a national delegate representing my local government at the national convention where we elected Chief MKO Abiola as our flag bearer at the time. After that I remained a pioneering leader in the formation of political parties. I am a pioneer member of PDP in my local government. I am actually the leader. I also contested for the senatorial seat in 2006 although I lost. That is not important now. The governorship seat is now vacant and that is why I am going for it.
The National Assembly has directed that election should hold early next year. Don't you think the time is rather short?
Well, it is short. But what can we do? Short of extending the tenure of this government to allow more time for election and therefore amend the constitution, we don't have a choice. The life of this government must terminate next year and there must be another government. So, we have to make do with the shortcomings that we have.
Do you think INEC can cope considering the short time?
It is a question of will. If the will is there they can do it. I don't think they can do fresh voters register. That is going to be a serious task. I don't think we should do that now. What they can do is to do an update. They can spend a month to put register in all the wards and ask people to go and update it. With that, it becomes an ongoing thing and it is better. But I don't think they have the time to do a fresh register.
The complaint is that Mike Tyson and Obama appeared in the voters register in Ondo State.
Unfortunately, it is some thing we will have to contend with. People don't have confidence in it. But it was used to conduct the 2007 election and the government that was elected will soon come to an end. I will just appeal to our people to let it be because what they are asking for is an extension of the tenure of the government, which is unacceptable.
The new INEC chairman is a man of integrity and an academic of note. He is a credible person and I know he would wish that he had more time. Unfortunately, he does not have the time. His wish would be let this election go and I will try my best to do whatever I can within this limited time. He will spend the next few years to correct what is wrong and ensure a very good election in 2014.
Some are saying that if necessary, INEC should ask for time and be given the necessary time according to law.
Asking for time will not solve the problem. Asking for time will be asking for more problems for INEC because whether we like it or not on May 29 next year, there must be a new government. To have a new government, there must be an election. There must also be time between election and the election petitions. So where will INEC get the three months to sphere? It is not feasible and we need not deceive ourselves. We just have to let this one pass.
If and when you win the governorship of Ogun State, what would be your priority?
My priority is to wipe out unemployment from Ogun State, through a massive agricultural revolution. What I am saying is that we are going back to base. We are going back to the foundation that Chief Obafemi Awolowo laid for us. He used it to solve employment problem. We will have government farms and farm settlements. The local governments too would have their own farms. Through that, we would employ all able-bodied men and women. In those farm settlements there would be accommodation. It would be fully complimentary and not just ramshackle. There would be recreational facilities so that when they work, they come back home to relax. Those who work in the farm would be entitled to the same condition of service as they operate in the civil service.
Would it be mechanized agriculture?
It would be combination of crude and mechanized farming. If you go to China today, farming is extensively mechanized. But it is also labour intensive. If you go on the streets, you will see some people with long brooms sweeping the streets. They could have swept the streets with motorized sweepers. But they don't. They just want to engage their populace. That is what we would do.
Do you have the backing of Ogun PDP leaders to contest the election?
I don't know how I am going to answer that question. What I can tell you is that I have come out to contest as my constitutional right. Nobody can have the backing of any leader at this stage because we are yet to get to the primary. It is the primary that determines who has backing and who doesn't have backing. All of us on the road now have constitutional rights to contest. That is why we are out