2011: NYAKO MAY JOIN RACE FOR PRESIDENT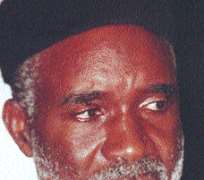 Nyako
Pressure is mounting on Adamawa State Governor, Murtala Nyako, to run for president next year.
Following a resolution last week by the Peoples Democratic Party (PDP), in which the zoning formula was retained while President Goodluck Jonathan was equally given the nod to run, the North has closed ranks, seeking a consensus candidate that will be widely accepted across the nation. Nyako is believed to be one of such.
The Northern Governors Forum, Saturday Sun learnt, is strategizing for the emergence of one of its own as president, believing that the hand of the region has been strengthened by PDP's decision, which threw the race open to all interested contenders. The governors were largely responsible for the victory of the late president, Alhaji Umaru Musa Yar'Adua, at the PDP convention in 2006, after he had been handpicked by the then President Olusegun Obasanjo. They were also instrumental to the emergence of Alhaji Namadi Sambo, erstwhile Kaduna State governor, as Vice President in May, this year.
Already, two northerners have indicated interest in clinching the ticket of the PDP for next year's polls. They are former military president, Gen. Ibrahim Badamosi Babangida (retd), and former Vice President, Alhaji Atiku Abubakar, who declared only last weekend in Abuja.
Nyako and Atiku have been at loggerheads over the return of the latter to the PDP, with the governor insisting that Atiku is not a member of the party, having not been formally re-admitted at his ward.
Is Nyako's interest in the presidency not another way to further spoil the former Vice President's chances?
'Nyako's chances are much brighter than Atiku's,' a source close to the governor told Saturday Sun. 'The governors are the current power brokers, and Nyako is highly respected among them. You can't compare his chances with that of Atiku, whose political influence has dwindled, with his ill-advised defection to the Action Congress, and his somersault back to PDP.
The electorate will not trust him as before. The governors have majority of the delegates at their disposal, and whoever they back will get the PDP ticket.'
Aminu Iyawa, Special Assistant, Media, to Governor Nyako, in a telephone interview, said his principal enjoys cordial relationship with governors across the country, 'and it's a welcome development if they're asking him to run. But I don't know anything about it yet.'
Iyawa added that he would not be surprised if Nyako gets the nod of his colleagues, 'as he has everything it takes to lead the country, and lead well.'