'Not attaining my educational goal is my only regret'----Odunlade Adekola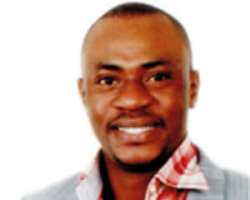 YOU won the Best Actor of the Year Award for the second time in a row, how do you feel?
More than happy. When I look at my life and where I started from, I can't but thank God. When I won the award last year, I was impressed by the result. I promised my fans that I was going to give them another performance this year that would be talked about. I thank God that has come to reality. I never knew I was going to win it. In fact, when I learned that I had been shortlisted for the awards, I didn't attach any importance to it. When I was called that night by the MC, I was surprised. I never knew I have so many fans. But let us give thanks to God for everything.
How did you manage to clinch the award for two years consecutively?
I don't know. May be you should ask the organisers. One thing you can't take away from me is that I work hard and I am creative. What I do is not easy. I make sure I go through my scripts thoroughly before giving the movie a shot. I am a very reserved person and I do things one after the other. I believe you must put in your best, if not all, into whatever you are asked to do because in it is where your treasure and desires lie.
You were nominated among the likes of Saheed Balogun and Femi Adebayo, how would you place yourself, compared to them, in terms of film production and acting?
They are actors and have been around for a while, but what I have achieved so far is unprecedented. I don't know what has happened before, but my own case is different and special. It has never happened before. But they are fantastic guys and I respect them a lot.
What is the key to your success?
God owns my life and He can take it anytime I am no more relevant to his operations. Like I said earlier, hard work, dedication and creativity have been my driving force. I am one of the lucky few that have graced this industry and I really thank God for that great privilege.
Looking back to those days when you started, what was your dream like?
To make my name an institution in my the field; though it was very rough and uncertain then, given the fact that it has always been difficult breaking into the industry if you are not known. No matter how good you are, when the time has not come for you to be known, it will look like you are not serious. I remember that some people used to tell me that I should opt for another profession because they saw artists as never do well and nuisances who have nothing to offer the society. I dreamt big because I knew I could do what those people were doing on TV, but my major problem was how to go about it. The scenario was obviously like a myth, but I thank God for my life and that of my family.
You are an actor, a producer, director and even a composer. Which one do you find most challenging?
The most important thing is to have an idea of what you want to dabble into. I can do all these without any hitch, but I am an actor. Yes, people call me to come and direct their movies, but, I see movie directing as a threat that can ruin my image. That's why I always take my time to direct perfectly, any movie I choose to direct. The music aspect of my life is one that I can tell you I am very good at. I have been in music for a very long time. I started when I was in the choir. In fact, I can use a whole script to sing. It has become part of me.
Why do you think actors are relocating to Ghana and other neighboring African countries?
Well, it is all about repackaging in order to enhance your value in the face of stern competitions in the industry.
Are you saying Nigeria is not good enough …?
Well, it depends on your perspective and what others have in mind. I was born and bred in Abeokuta; I am not planning to leave Abeokuta for now, not to talk of leaving Nigeria for Ghana. If you like, you can take your film to London or relocate there, who cares?
How do you manage to switch roles since you get movie roles more often?
Honestly, if I tell you that I know how I do what I have been doing, I will be lying because I don't understand how it works. Some people say this guy has another spirit that drives him, but I always tell them that's not true. Na God dey do am, no be me ooooo. I have a personal assistant that sorts those things I can't attend to out.
What is your relationship with Mosun Filani like? Reports have it that there is animosity between you guys
Mosun and I are colleagues and we get on set when the need arises. I don't know why people talk as if they don't make friends in the course of their duties. This is a profession that brings friends and foes together on set. I don't have anything hidden with her.
You have not featured her in your movies for some time now nor played roles together, why?
Maybe she couldn't do what I want her to do as far as the scripts were concerned. When I wanted to shoot my film ',Emi ni ire kan' I had at least 20 names of ladies that could do the role well and I gave it to others to look out for a lady who could play the role to satisfaction and they came up with another girl, who played the role very well. Si, it's not about a person, but delivery.
How do you treat your scripts?
I believe every script has an idea behind it, so, turning it down or disregarding it is like killing an idea. Even when the script is bad, I will read it and make the necessary adjustments it deserves.
What depresses you?
I am not always happy that I have not been able to attain the standard I set before myself as regards having an education.
What does a rich guy like you need education for?
I want to go back to school to complete my programme, it burdens my heart when I remember I am lacking in that aspect, but I still thank God for what I have achieved so far. Point of correction, I am not a rich guy oo, I am still a hustler.
Who are your role models in the industry?
I don't have role models in the movie industry, the only role model that I have is Jesus Christ. But there are some people that I love. For example, Dele Odule, Jide Kosoko, Oga Bello and Saheed Balogun, are among the few that I consider as models.
How would you describe yourself now that you have won the best actor of the year twice?
Nothing has changed and it won't change in many years to come. I came into this profession because I had the flair for it and I can tell you that my delving into it has really added a whole lot to me because that is what I'm known for today.
How do you treat your female fans?
They are my fans and I love them because they appreciate what we do. Not all of them want to sleep with you, they only love you because of what you do. If you stop doing those things they love, you will lose them all.I never knew I have gotten to that stage that where girls will see you and shout your name. It amuses me when they shout my name sometimes, other times, it is embarrassing, but it is the price you pay for being a celebrity.