Tony Okocha As Dimgba Ekinigbo: Meaning And Significance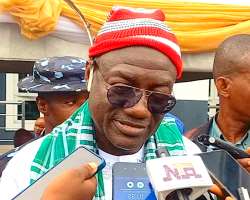 Chief Tony Chidugam Okocha, DSSRS, (Dimgba Ekinigbo Clan)
"A people without the knowledge of their past history, origin and culture is like a tree without roots." - Marcus Garvey
The word "Dimgba" generally means warrior in Ikwerre language. However, in more specific terms, it describes a famous and powerful wrestler whose back never touches the ground in any wrestling contest, no matter how formidable the opponent might be.
In Ikwerre mythology, the Dimgba's back, also called "dorsum" in anatomy (the surface of the body opposite the chest and the abdomen), is likened to the back of a "wokom" or cat, which is hardly ever exposed to any attack.
Scientifically speaking, keeping its back safe during any fight, is a major evolutionary hack for the cat, because by doing that, it in turn protects vital organs like the chest, abdomen, etc., which would be exposed to fatal danger if its dorsum ever hits the ground, and that's why pet owners are strongly advised to apply caution when stroking these areas as the beast might see it as a threat and react violently. It's just evolution.
Today, there's hardly any Ikwerre clan that doesn't boast of Dimgbas within its territory, and the concept has transcended mere wrestling to other dimensions of existence, but the key features of the ancient ideology still remain —it has become a way of life.
This cosmological outlook plays a significant role in the social, political, and philosophical disposition of the Ikwerre people in terms of leadership. Naturally, the Ikwerre man doesn't give sensitive leadership positions to a weak person; you have to earn power based on physical agility, spiritual alertness, and mental dexterity.
And it's in this stead, that Ekinigbo Clan in Apara Kingdom of Obio-Akpor Local Government Area of Rivers State, decided to confer the revered Dimgba title on Chief Tony Chidugam Okocha, DSSRS, Rivers State Representative, Niger Delta Development Commission (NDDC), last Sunday, during a homecoming reception.
In his remark, the paramount ruler of Ekinigbo, His Royal Highness, Eze Billy Wanele Owhonda, Eze Ekinigbo 1, said the revered ancient title was bestowed on Chief Okocha because he has won and keeps winning so many political battles that are beneficial to the clan, stating that his back has never and would never touch the ground in all his endeavours.
Like every other ancient leadership stool, the responsibility of a Dimgba is enormous, meaning that he has to always keep himself physically, spiritually and mentally ready for any present and future "aliri" or shame-bearing challenge that directly or indirectly affects the harmonious existence of his people.
Anu meka o!