LEKKI RESIDENTS STAGE PROTEST, DARE FASHOLA OVER TOLL GATE LEVY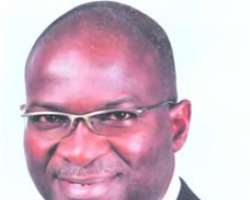 Residents of Lekki and Ajah communities on Thursday staged a protest to express their misgivings on the toll proposed by the concessionaire of the ever busy Lekki-Epe Expressway on motorists.
The protesters had in the early hours of yesterday laid ambush on the road ahead of the Lagos State governor's visit to the zone brandishing placards with inscriptions such as ' Fashola we know your hands are tied but help us to fight these tyrants', 'LCC is here to rip us off,' 'We are being enslaved in our land,' 'Remove your gates from our roads and go,' among others said they would resist the state government and the concessionaires in their bid to impose the toll on them.
According to their spokesman, Mr. Adewale Sanni, the governor had no other option than to urgently look into the various issues raised or face civil unrest from the people. 'The governor has assured us he would look into the matter and set up a committee on the issue. But he said that before. Therefore, we were surprised that the tolling plan was on in spite of the opposition by the people. We feel his hands are tied. But the people will not be taken for granted,' he threatened.
He said the protest staged yesterday was a signal to the government which was laying claim to democratic credential to feel the pulse of the people and do what was right, adding that the issue remained that the concession programme was shrouded in secrecy and not transparent.
Addressing the protesters, the Lagos State Governor, Mr. Babatunde Fashola appealed to the residents for understanding on the concession initiative of the government on the road, assuring that the grey areas causing their agitation would be sorted out to the benefit of both parties. The governor explained that the tolling of the road was in order to enable the concessionaire recoup the investment it made, adding that although it may not be easy initially, the long-term benefits to the community would far out-weigh the challenges.
He said although it was a novel idea in Nigeria, tolling had been employed across the globe to execute multi-million dollar projects with far-reaching socio-economic gains adding that in other jurisdictions apart from Nigeria it had worked as alternative of road development. The Lekki-Epe Expressway was given to Lekki Concession Company (LCC) in collaboration with Lagos State government to develop the road as part of plans to ensure rapid transformation of Lekki Peninsula into a world-class free trade zone.