ICPC BEGINS PROBE OF PLOT TO IMPLICATE BANKOLE OVER REA SCAM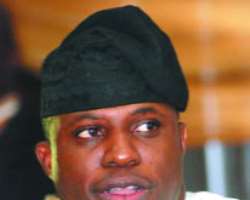 The Independent Corrupt Practices and Other Related Offences Commission (ICPC) has commenced investigation into allegation of plot to implicate the Speaker of House of Representatives, Mr Dimeji Bankole, in the Rural Electrification Agency (REA) scam.
One of the aides to the Speaker, Kayode Odunaro, had in a petition to the ICPC dated Friday, July 24, 2009 alleged that he was invited to be part of a plot to pay money into bank accounts belonging to some companies used in the N6.5 billion REA scam.
Odunaro confirmed to Daily Sun yesterday that he had honoured invitation from the ICPC to come and clarify some of the allegations contained in his petition. 'Yes, it is true that I was invited by the ICPC, but it was in connection with the petition I sent to the commission last year, this is all I can say because investigation on the matter is on,' he said when contacted over his mission to the ICPC.
In the petition, he alleged that he was invited to a member's office where he was handed photocopies of cheques raised in the name of five companies in the presence of officials of the bank. The petition reads in part: 'I was told that the three companies belong to family members of Mr Speaker and my role was to persuade them to allow their accounts to be used as aforesaid. This would necessitate the companies agreeing to sign an agreement claiming they got contracts from REA and are subletting it.
'The photocopy of the cheques I was given were written in the names of Zobral Global Services Ltd, Vulysteke Mettalic Construction Ltd, Parthenon Acropolis Ltd, F-Plus Concept Ltd and Complete Trade Ltd.'
Odunaro said he observed that the cheques were all drawn after anti-graft agencies had launched a full probe into allegations of fraud in contracts awarded by the REA.
He added that all the five cheques carried same amount of N17, 157, 977. 14, 'which made me to be suspicious.' Resident Media Consultant to the ICPC, Folu Olamiti, confirmed the invitation of two aides to the Speaker by the investigating team handling the REA contract probe.