NCC Boss Commissions GateWay Network In Abuja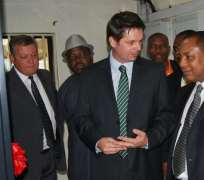 ABUJA, August 19, (THEWILL) - Executive Vice Chairman of the Nigerian Communications Commission, Dr. Eugene Juwah has commissioned commercial services for the provision of wireless broadband services in six states of the country by Gateway Business.
This followed the company's successful roll out of its Airlink and Metrolink broadband solutions in Lagos.
"Your products and services are interesting and we will give you support to roll out to the benefit of your subscribers.
"We hope that your services will be reliable and affordable to the Nigerian subscribers and that the enterprises will be for the benefit of the subscribers and the nation. We wish you well," Dr. Juwah said at a very short ceremony that took place at the GateWay installation in the Maitama District of Abuja.
Earlier, the company team, led by GateWay Africa Business Chief Executive Officer, Wally Beelder, and Managing Director, GateWay Business Nigeria, Guy Clarke, paid a visit to the NCC Headquarters where they made a presentation about the facilities being provided by the company in Lagos, Abuja, Port Harcourt, Ibadan, Kano and Kaduna.
They told Dr. Juwah and his team that Gateway Business' broadband wireless access provides organizations with fast and secure broadband connectivity, for reliable last-mile service, without the risk of potential interruptions and downtime on a terrestrial (fibre) "local loop". AirLinkTM or MetroLinkTM can be installed and activated in a single day, giving customers immediate connectivity.
Gateway Business Nigeria will roll out high speed access services across five other cities before the end of 2010. The cities Benin, Abia, Onitsha, Enugu and Warri. The company says it is committed to completing the roll out of its network in 36 states in two phases. This furthers Gateway Business' drive to build a pan-African Multi-protocol Label Switching (MPLS) network that covers every major African city based on terrestrial (fibre) infrastructure with access to submarine cable.