PIPELINE SABOTAGE: SHELL DECLARES FORCE MAJEURE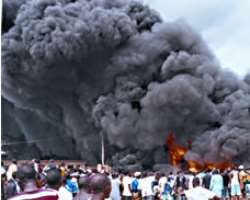 Royal Dutch Shell declared force majeure on its Bonny Light oil stream after a rise in sabotage on its pipelines cut output by up to 100,000 barrels per day, trade sources said yesterday.
A Shell spokesman said the force majeure, which frees the Anglo-Dutch firm from contractual deliveries to customers due to actions beyond its control, took effect from August 16. He gave no comment on any production impact.
Bonny Light is a light crude popular with United States and European refiners and has been Nigeria's largest oil stream, but the onshore production facilities are particularly vulnerable.
Two oil trading sources said Bonny Light output had been reduced by as much as 100,000 bpd by recent sabotage. Shell warned on Sunday of a rise in acts of sabotage on its crude oil pipelines in the Niger Delta in recent weeks.
Shell's SPDC joint venture said it had recorded three incidents this month of suspected thieves drilling holes or using hacksaws to pierce pipelines in the Cawthorne Channel leading to its Bonny export terminal and siphon off oil.
The company said it was working to repair the Cawthorne Channel pipeline and had set up containment booms to prevent oil seeping further into the Niger Delta, a vast network of mangrove creeks, which make up one of the world's largest wetlands.