Of Cement Price Reduction And Monopolies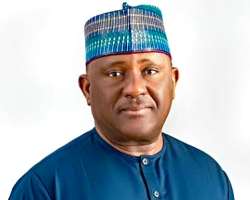 Abdul Samad Rabiu ( Executive Chairman, BUA Group)
Perhaps as an October 1 present to Nigerians, BUA Cement Plc, one of Nigeria's leading cement producers, announced a reduction in the price of its cement. According to the company, a bag of cement will sell for the sum of N3,500, instead of the reigning price of more than N5,000 naira per bag. The company said the price reduction was the product of a commitment made by it towards catalysing development in the building materials and infrastructure sectors. It said: "BUA Cement Plc wishes to announce and inform our esteemed customers, stakeholders and the public that, effective from October 2, 2023, we have decided to bring the price reduction forward. As a result, BUA cement will now be sold at an ex-factory price of N3,500 per bag so that Nigerians can begin to enjoy the benefits of the price reduction before the completion of our plants." BUA's plants, which will witness the operation of new production lines, are expected to be commissioned in December, spurring increment in the company's production capacity to 17 million metric tonnes per annum. The company also announced that it would conduct a further review process on prices once the new plants were completed in the first quarter of 2024.
In an economy where prices never go downwards, the action by BUA is a commendable one. At the rate the prices of cement skyrocket, it is obvious that construction has gone beyond the reach of ordinary Nigerians. The price regime is choking, especially in the face of the huge housing deficits in the country. The spiraling prices of building materials have not only critically affected developments in that sector, they have hampered its growth. While the company would not have embarked on the present action if it would threaten its existence as a viable entity, it appears to have been moved by the need to voluntarily reduce its profit with a view to garnering goodwill from Nigerians. This effort is still commendable because goodwill itself is a form of asset that could come in handy for the company in future. It could have continued to maintain the previous prohibitive cost, garnering huge profit and not bothering about any goodwill that would only count in the future.
Only recently when the Minister of Works, David Umahi, announced the Federal Government's plan to construct roads with concrete pavements, saying they had a longer lifespan than roads made of bitumen, uproar was generated in the building sector. During a courtesy visit to the then Acting Governor of Ondo State, Mr. Lucky Aiyedatiwa, while on an inspection of federal roads in the South-West, Umahi had said that concrete roads had been tested in many states of the country and found to have long lasting life span of 50 years, compared to asphalt roads whose lifespan was about 15 years. This sparked fears that the cement industry would be faced with tremendous pressure as a result of increased demand for forex for importation of cement, with adverse consequences on ordinary users of cement. But as delightsome as the BUA price slash is, we still believe that further slashes can be made in the industry if an effective wedge is placed against monopoly in the market. The point has to be made that the only reason this price reduction is coming up and Nigerians are in a position to benefit from it is that BUA is not the only cement company in the country and could therefore be interested in cultivating goodwill among Nigerians as part of its strategy for competition with other cement companies. The government, over time, has deliberately supported some companies to act in a monopolistic manner because of the personal and individual interests of those in government. There is a need for multiple companies in any industry in Nigeria to curb monopolistic tendencies.
Were BUA the only cement company in Nigeria, there perhaps would not have been any desire to cultivate goodwill through price reduction. That is why monopolies should not be encouraged. Rather, they should be opposed as a matter of principle, if only to eliminate the kind of pain and extortion that successive Nigerian governments have subjected Nigerians to through active promotion of monopolies. Oftentimes, even where diverse companies exist in an industry in Nigeria, nothing is done by the government to prevent them from ganging up to collectively impose whatever exploitative price structure they want on Nigerians. The example from BUA Cement Plc should therefore be an eye opener for Nigerians. Henceforth, they must impress it on the government to outlaw monopolistic operations in any industry in the country.
Diversity leads to competition and is the best platform for innovation, which brings progress and development and rewards the people and society with value. While acknowledging and commending the noble gesture by BUA, we urge Nigerians, going forward, to insist on the elimination of monopolistic operations within the economy and ensure that the government is pressured to take its anti-monopolist (anti-trust) responsibility more seriously. This is the way to ensure maximum benefits for the society.
Culled from :https://newsexpressngr.com/news/205864/of-cement-price-reduction-and-monopolies-nigerian-tribune-editorial_