Nigerian Journalist Damilola Ayeni Arrested In Benin While Reporting On Environment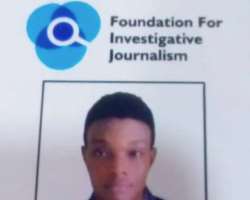 Nigerian journalist Damilola Ayeni was reporting on the environment for the Foundation for Investigative Journalism when he was arrested by Benin police on August 31, 2023. (Photo courtesy Fisayo Soyombo)
Abuja, September 7, 2023– Authorities in Benin must immediately and unconditionally release Nigerian journalist Damilola Ayeni, drop all charges against him, and allow him to work safely, the Committee to Protect Journalists said Thursday.
On August 31, police officers in Benin's north western Pendjari National Park arrested and detained Ayeni, an editor with the privately owned Foundation for Investigative Journalism (FIJ), as he was taking pictures at the park for his reporting on environmental conservation, according to reports by FIJ and the privately owned LibreExpress news site, as well as Ayeni's lawyer, who asked to remain anonymous because he was not authorized to speak publicly on the case, and FIJ founder Fisayo Soyombo, both of whom spoke by phone with CPJ.
Soyombo emphasized that Ayeni had gone to Benin on assignment for FIJ and said the arrest was tragically ironic because he believed the local government would have appreciated Ayeni's coverage.
The officers accused Ayeni of involvement with a jihadist terror movement and held him at the police station in the northern city of Parakou, until September 5, when they moved the journalist to Cotonou, Benin's largest city. He is expected to be questioned by officers with the police's criminal brigade in Cotonou before being presented at the Court for the Repression of Economic Offences and Terrorism (CRIET) in the capital of Porto-Novo and charged with alleged terrorism, according to a separate report by the FIJ, Ayeni's lawyer, and a report by the privately owned Benin Web TV news site.
"Authorities in Benin should immediately and unconditionally release journalist Damilola Ayeni, swiftly drop all legal proceedings against him and ensure he is able to work freely and safely," said Angela Quintal, CPJ's Africa program coordinator in Durban, South Africa. "Ayeni's detention and allegations that he is a terrorist are outrageous. A cursory search online would show that he is a recognized and published journalist, not a terrorist."
Ayeni's lawyer told CPJ on September 7 that he had yet to speak with the journalist and could not confirm the status of the case against him or under which laws he may be prosecuted.
Soyombo said that on August 31 FIJ received a text message from Ayeni saying, "I have just been arrested," but the message was quickly deleted. An FIJ staffer immediately called Ayeni's line. Ayeni picked up and told his colleague that he was only held briefly because there were security concerns in the area and that he had been released, according to the FIJ reports and Soyombo. However, Ayeni was unreachable by phone soon after that call and the FIJ could not determine what had happened to him.
On the night of September 4, a friend of Ayeni told Soyombo that he received a voice message from a man claiming to have been released from a detention facility at the Commissariat Central Police Station in Parakou. That man told Ayeni's friend that Ayeni was detained at the same Parakou police station and was scheduled to be tried on allegations of involvement with a jihadist militant movement.
On September 5, Soyombo told CPJ that he received messages from someone claiming to be the commissioner at the Parakou police station saying that Ayeni had been accused of involvement with a jihadist movement. The alleged commissioner also demanded 800,000 CFA (US$1,315) in exchange for Ayeni's release, according to Soyombo and another FIJ report. Soyombo said he refused and asked for a video call to confirm Ayeni's safety and to see the caller, but the person declined. Soyombo also said the alleged commissioner also did not answer questions about the basis for the allegations against Ayeni.
Soyombo told CPJ that FIJ later sent a representative to the Parakou police station, where police officers confirmed that they had indeed arrested Ayeni but said that he had been released from the station.
Reached by CPJ on September 7, Francisca Omayuli, the spokesperson for Nigeria's foreign affairs ministry, did not respond to questions about Ayeni and requested to be contacted via messaging app. She later told CPJ by messaging app that she would make the necessary inquiries and respond, but had not done so by the time of publication.
A Benin police officer at Parakou, who requested anonymity because he was not authorized to speak on the matter, told CPJ that Ayeni was expected to be questioned by the criminal brigade unit, but did not have further details about Ayeni's prosecution. The officer who spoke to CPJ is not part of the criminal brigade unit. A spokesperson for the Benin police, Eric Yerima, told CPJ on the same day that he was not aware of Ayeni's arrest.
CPJ's calls to a contact number listed on the website of the Nigerian embassy in Benin did not connect. CPJ also sent messages to an email listed on the website but received no response.
Benin government spokesperson Wilfried Léandre Houngbédji declined to comment on the matter and asked CPJ to contact the police.
In 2022, police officers in Benin arrested Dutch journalist Oliver van Beemen and Beninese journalist Flore Nobime while they were reporting at Pendjari park and accused them of espionage, according to a report by South Africa's privately owned Mail & Guardian news site. The journalists were later released without charge.