Hearty Cheers To Emeka Nweke - A Divine Donation To Humanity.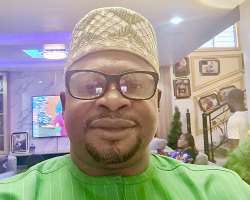 Ndigbo of Eastern Nigeria say that, "It is with a smooth tongue that the snail walks on thorns". In Emeka Nweke, a Lagos-based Ebonyi-born industrialist who conquered the vagaries of fate with cheerful giving, this statement has manifested full circle. Born on 29th of August, 1981 at Nwekendiegu in the pastoral community of Unwuezeokohu, Ezza - Effium, in Ohaukwu LGA of Ebonyi State, Emeka's educational career started in Umuezekoha State School, Effium in 1989. He proceeded to Effium High School in 1996 but could not complete his secondary education due to financial constraints. Notwithstanding Emeka's dream of excelling in the field of academics, he had no choice other than to enrol into the globally acclaimed Igbo business mentorship scheme at Ladipo market as an automobile spare parts apprentice in 1999.
Emeka Nweke graduated in his apprenticeship service in 2006 and left with nothing due to a brutal stroke of fate: His cousin and master, Benard Nweke, a.k.a. Benzolla, was brutally murdered in Festac Town! This heinous crime left many devasted, frustrated Emeka's planned settlement from apprenticeship and coloured young Emeka Nweke's future with impervious darkness.
As an optimistic young boy imbued with the iron will to succeed, Emeka refused to be swayed by the illfate that crowned his apprenticeship. He continued with dignifying endeavour, following all men with peace, patience and goodwill; trusting that as written in Joel 2:23, God would certainly restore the days eaten by the locusts of bad faith. One fateful day, God sent a destiny-helper to Emeka Nweke in the form of a young man in need of help. The young man who craved financial support courageously walked to Emeka Nweke for financial support. Emeka who led a life of charity even in lack, assisted the young man as much as he could. One other monumental day, the man to whom Emeka had rendered help returned in gratitude. This time, John Orji did not come to seek help. Rather, like the good-hearted lepers who discovered the treasures of the Syrian camp in Samaria in 2 Kings chapter 7, Mr. Orji returned to introduce Emeka Nweke to the more elaborate and lucrative business of telecommunication services. Emeka Nweke's diligent venture into that line of business finally collapsed the walls of darkness and poverty which fate had cast over Emeka's future, connected him to light and set him on a trajectory of prosperity. Today, he sits as Chairman/Chief Executive Officer of Brightview Services Nig. Ltd! His divinely arranged relationship with his destiny-helper, Chief John Orji, Chairman Onik Global Resources Ltd., has continued to soar and blossom at both business and family levels. It is interesting to note that in spite of all odds, Emeka Nweke's love for education continued to be aflame. Combining the vagaries of business with an educational career, Spartan-willed Emeka has successfully weathered the undulating Nigerian academic terrain and is billed to graduate from his degree programme in Business Administration in 2024 in the prestigious University of Lagos.
Having risen above poverty through the launchpad of charity, Emeka Nweke has not forgotten his route to prosperity. Hence, he holds humanity dearly and sees giving to both the society and humanity as a way of life. Before the holocaust began in Effium Community in 2021, Emeka Nweke in response to acute water shortages in his aboriginal community dug boreholes in various villages in the community and another one in Umuezeokoha, in Ezza North LGA of Ebonyi State.
Notwithstanding Emeka Nweke's rise above poverty, he still wears empathy like a robe. Not wanting other people to encounter frustrations or interruptions in their educational careers on account of poverty like he did, Emeka Nweke expanded his charity works to include a university scholarship programme through which numerous students' are assisted to pay their school fees. In addition, Emeka in his charity outreach powers small and medium scale entrepreneurs with startups. He has equally sponsored some individuals in legitimate search for greener pastures offshore. It suffices that many people who thrive in various fields of endeavour today are grateful to God for making their respective paths cross Emeka Nweke's. The unique things about Emeka Nweke's interventions in people's lives is that he does not bring his beneficiaries to the embarrassment of camera flashes. Emeka Nweke believes that the dignity of his beneficiaries deserve protection. His constituency is humanity, hence, he does not know majority of his beneficiaries.
At a time when bogus titles are craved by his mates, humble Emeka Nweke has politely turned down chieftaincy overtures from his grateful Unwuezeokohu Ezza-Effium community; preferring on one occasion that the community honoured the man who sired him, Chief Alo Nweke as Eze-Dulè-Nwa of Unwuezeokohu. Emeka Nweke has two personal creeds: He believes that giving is a good venture; and that determination destroys perceived negative projections.
Emeka Nweke is married to the love of his life, Cynthia, and the union is blessed with five promising children. As this divine donation to humanity who has weathered lifstorms with the armour of charity marks his birthday today, here is wishing him 42 hearty cheers.