Tobias Chukwuemeka Okwuru Ksm: The Vase Is Broken But The Scent Refuses To Go.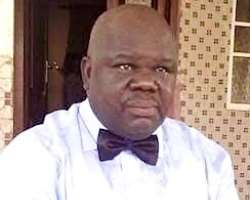 Late Sir Tobias Chukwuemeka Okwuru KSM
Tobias Okwuru (1961 - 2020), ALIEZZA, is one of the most enthralling characters that walked the earth of Ebonyi State and Nigeria. That he did not live long was evident from his short span of 59 years. However, the donation in this short life span is great and mindblowing.
Born to the Okfuru Awoke Elom dynasty of Amudo, Ezza South, in 1961, ALIEZZA, as Okwuru is fondly called, started his life as a teacher, town union secretary and councilor. He was a political party administrator and a state and later federal legislator.
In all these years, Tobias Okwuru radically invested his resources not in businesses but in humanity and in the vineyard of God. Consequently, one may not count Okwuru's mansions or skyscrapers, but the testimonies of his goodwill is like the air. One breathes it everywhere and it blows on one everywhere one goes.
The Catholic Bishop of Abakaliki Diocese, His Lordship, Rt. Rev. Dr. Peter Nworie Chukwu, paid a pastoral visit to St. Paul's Catholic Church, Amudo, which is the home parish of the Late Tobias Chukwuemeka Okwuru. The parish was also marking her 20 years anniversary. Two great sons of Amudo community, Chief Tobias Okwuru and Chief Peter Chibuike Orogwu (Baby Oku), were singled out for honour over their spectacular investments in the church.
The testimony of the parish about Chief Tobias Okwuru's role in the church was a catalyst for pristine positive emotions: He calmed a man who would rather die than allow the church to be built in its location, relocated the man to another land and built a house for the man before the parish was allowed to stand.
The parish gave Chief Okwuru a posthumous award as Ohamadike 1 of St. Paul Parish Amudo. Surely, when Tobias Okwuru died in 2020, the vase or frame which housed the giant soul we know as Tobias Okwuru was broken, but the scent of ALIEZZA hangs around.