Ebonyi Communal Crises: Government Sets Up Peace Committees, Appoints Retired Catholic Bishop Chair.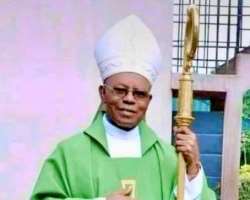 Right Rev.fr. Michael Nnachi Okoro
Ebonyi State government has set up committees to work towards resolving intra and inter communal crises in flash points across the State.
The development was part of outcome of discussions during Thursday Executive Council meeting presided by Governor Francis Nwifuru in Government House, Abakaliki.
Briefing Journalist in his office, the State Commissioner for Information and Orientation, Jude Okpor, said attention was mainly focused on Ezza Effium and Effium crisis in Ohaukwu local government area, Isinkwo/Abaomege crisis in Onicha local government area, Amana/ Ikwo in Ezza South and Ikwo Local Government Areas respectively, among others.
He explained that the immediate past Catholic Bishop of Abakaliki Diocese, Right Rev.fr. Michael Nnachi Okoro was appointed to chair the Committee on Ezza Effium and Effium crisis, with Rev. Fr Charles Otu as Secretary.
While the Committee on Abaomege/Isinkwo was chaired by His Royal Highness, Ezeogo Ewa Elechi with Prof. Wilberforce Oti as Secretary, Engr. Obasi Abara and HRH Eze Cosmas Agwu of Okposi Autonomous Community were to serve as Chairman and Secretary, respectively, on the Amana, Ezza South/Ikwo crises.
Okpor further explained that the Committee members were selected based on their track record of integrity and the fact of their neutrality as non members of the crises communities.
The Commissioner also informed that the EXCO also looked into the report on resettlement of some persons displaced by crises and other factors.
"Council received a progress report from the Commissioner for Housing and Urban Development on the construction of low-cost housing units for Izzo and Amaeze Communities in Ishielu LGA who lost their houses due to communal crisis, and also for communities in Izzi and Abakaliki LGAs that lost their lands to Government acquisition without compensation.
"Council resolved to execute it in phases beginning with the ones in Izzo and Amaeze Communities, and further directed the relevant ministry to liaise with the Public Procurement Council to commence the procurement process immediately", Okpor said.
According to the Commissioner, Governor Nwifuru furthermore, at the EXCO meeting, gave marching orders to the Commissioner for Water Resources "to get water running in all the streets of Abakaliki before the next EXCO meeting" to ameliorate the sufferings of the people of the State.