Umuona Enthrones Sunday Ezeofor, Igwe Ezedioramma II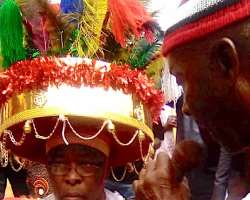 The newly enthroned Traditional Ruler of Umuona Community in Aguata Local Government Area, Anambra State, His Royal Highness, Igwe Christopher Sunday Ezeofor(KSM), Ezedioramma II of Umuona has promised to give out scholarships to 8 children who will emerge as best graduating pupils from Umuona community saying that he would sponsor their academic pursuits from Secondary school to University education.
Igwe Ezeofor who is an adent supporter of Governor Chukwuma Soludo's 1Youth,2Skills project made the pronouncement shortly after his coronation at Umuona Civic center saying that he would also sponsor cum empower any Umuona youth who is outstanding in any choice of skill acquisition or craft.
In his acceptance speech, Igwe Sunday Ezeofor said: " I feel elated today to be the cynosure of all eyes as my community, Umuona crowned me their traditional ruler today. This shows that I am good for my people. I am grateful to everyone in my community who made this coronation a success. I also thank Governor Chukwuma Soludo of Anambra State for his timely intervention to restore peace in Umuona community.
"I have always wanted the progress of my community which includes human capital development. Some children are endowed but they may not have sponsors to help them in their academic pursuit or empower them to become somebody in life.
"We have 8 villages in Umuona community, I hereby promise to give scholarships to 8 best graduating primary school pupils. From this September, I will fund their education from Secondary school to University. Although, we have 8 villages but the scholarship goes to the best pupils, I don't care wether they emerge from one village or more. I want to promote hardwork and excellence.
"I am an advocate of Prof Soludo's 1 Youth 2 Skills. I am a businessman, industrialist and trader. So, I promise to sponsor and empower any Umuona youth who finishes his or her apprenticeship and can showcase excellent craftsmanship," Igwe Sunday Ezeofor.
The monach after signing the Community Code of conduct further stated that he would uphold the Umuona Constitution embedded in Loyalty, humanity and Service pledging that he would lead with the fear of God.
Moreover, the trio of President General Umuona Community, Chief Kenneth Okoli (Ide Umuona), ASATU Secretary/Immediate past PG of Ikenga Community, Hon. Ike Anakor(Akajiugo Ikenga) and the Chairman Igwe Umuona election Committee, Mr. Godfrey Ezeabalum in their separate speeches after commending the monarch for the scholarships described him as a humble philanthropist who listens to advice urging everyone from Umuona to support his reign to restore peace and progress in the once embattled community.
According to the Chairman Onitsha South LGA, Hon Emeka Orji(Oba Okosisi), today you can see happy faces of Umuona people. Finally the true Igwe chosen by God has emerged unlike the deposed traditional ruler who came in by accident. Igwe IKC will take after his late father whose good deeds transcends Umuona community
Moreso, Former Chairman Aguata LGA, Hon Chief Dr. Anthony Okoli( Omenife Aguata) described the newly coronated traditional ruler as the people's choice who will right the wrongs of the deposed traditional ruler who brought Umuona community in bad light.
"Umuona is happy that today with this young man whose father was the first monarch we had. I worked with his father Late Igwe Ezeofor (Ezedioramma 1 of Umuona) who was like a mentor to me when I was the Aguata LGA Chairman and he did very well. The new Igwe has solicited for our continuous counseling and I know that he will do better than his father," said Chief Dr. Anthony Okoli.
Highlights of the coronation include crowning of the traditional ruler by elders from the eighth villages with Crown, Staff of Office and Royal handfan, crowning of the Lolo as Ocheze Igwe Umuona by the Umuada leaders with crown and Nza, and cultural dances.