Goodseed Daily Devotional 10th July 2023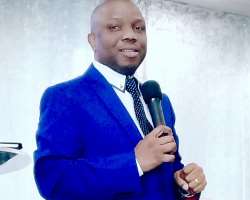 Apostle George Amadi (Lead Pastor: Goodnews Bible Church, London)
TOPIC: THE POWER OF UNDERSTANDING
SCRIPTURE: The eyes of your understanding being enlightened; that ye may know what is the hope of his calling, and what the riches of the glory of his inheritance in the saints,
Ephesians 1:18.
In our previous study, we saw understanding as a critical requirement for outstanding existence in life. How far you can go is a function of what you know; how high you can fly in life is also a product of your understanding.
Now, what are the benefits of understanding?
i. Understanding is a major channel of faith, and faith is the secret of results in life.
Understanding is a channel of faith and faith brings results. Things don't just happen. We don't see results just because we do things; we see results because we understand what should be the outcome of our action.
For example, you don't just experience open heavens just because you tithed; rather, you experience open heavens because you understand that your tithe will produce result. There are people who have been tithing for many years, but still lack the understanding of what the tithe is all about. Though they tithe faithfully, they still struggle with poverty because they don't have the understanding or revelation behind tithing. So, it is very important for us not just to do things but do them with the right understanding.
ii. Understanding is the birth place of commitment.
Anywhere there is commitment, there is also a depth of understanding. One reason why many people are lethargic in their commitment to God and His service is that they are deficient in the understanding of the covenant benefits of Kingdom service. If you know that it pays to serve God passionately in soul winning, no one would beg you to win souls. You should always understand that there is nothing a man gives to God that is a loss, whether it is his time, resources, or energy. There is nothing a man does for God that is without rewards (1 Corinthians 15:58).
Beloved, Make up your mind and go for understanding. Go for knowledge, especially the knowledge of the Word of God.
Make up your mind to break free from every spell of ignorance.
PRAYER: Lord, I ask that You open my eyes of understanding. Help me to behold wondrous things out of Your Word, Lord, in Jesus' Name.
Goodseed Daily Devotional is the publication of Apostle George Amadi- Senior Pastor Goodnews Bible Church London. If you are in the London area do worship with us at 2nd Floor Unit 4 Westmoreland House Scrubs Lane White City NW10 6RE