MY FATHER LOCKED ME OUT FOR COMING HOME LATE FROM A MOVIE SET – GLORIA MBA, NOLLYWOOD ACTRESS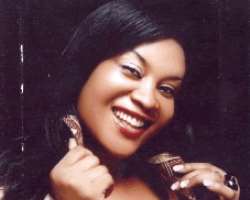 Gloria Mba
Pretty, talented and light-skinned Gloria Mba is not new in Nollywood. She may not be an A-list actress having been in the industry for seven years, but she has definitely made a name for herself while heading for the peak of her career.
Her father's opposition to her acting career was subdued by her passion for the job. Although it dealt a blow on her, Gloria was not one to be daunted by challenges. She took the bulls by the horns, followed her heart and today, she is having the best time of her life. In a chat with Daily Sun recently, Gloria revealed the reason for her early exit when she came into Nollywood in 1996, her take on sexual harassment in the movie industry, as well as her marriage plans to her heartrob, Leo. Excerpts:
Journey into Nollywood
I came into Nollywood in 1996 and left because I didn't know the ropes. I came back fully in 2003 after my self-imposed break. It was a refreshing moment for me to come back on the scene.
How did you pick up from where you stopped when you came back?
I won't say I picked up, rather, I started afresh. I had to start afresh because everything had changed, the industry was not the way I left it and it was important for me to start all over again so as to make myself a seasoned actress.
What lessons did you learn from your break?
It taught me that time waits for no one and that whether you choose to stay in a place or move, things will always change. When I came back, a lot of things had changed. The storylines were amazing, picture quality had improved. It was a different ball game and I felt like I had gone back to school.
How would you rate Nollywood?
Even though things are not perfect, Nollywood is better than what it used to be. Acting skills are better harnessed and new talents are springing up. It wasn't like before when people were given lead roles without living up to the task. Today, competition is stiff, you have to prove yourself before you get a supporting role not to talk of a lead role. Things have picked up but there are still hurdles to cross. I believe we will get there with time and the right infrastructures in place.
How many movies do you have to your credit?
I can't count, but they include Breaking News, August Visitor, One Love, Unforeseen, Beautiful Faces, Overheat and many more.
Which of these movies is your most challenging?
Every role I play is challenging. This is because I am not playing my real self. I have played the role of a quarrelsome person, a cult member and other characters which I am not. It is very challenging to enter a character and deliver your lines perfectly.
Are you planning to go into movie production like your colleagues are doing lately?
Not now. I would love to, but I am not ready now. I am not going into it because people are venturing into it, but I am an advocator for women empowerment. More women are bracing the odds in Nollywood by going into movie production and they are doing well. I want to be among them to plant my footprints in the sands of time. So, definitely, I would go into movie production.
How would you describe your career at this time?
It is great, but it hasn't been easy. There is never an easy road to success and no career is easy, but God is my strength. I have not attained much though, but I am getting better. My career is progressing.
What is your take on sexual harassment in the industry?
I only heard it once years back, but now I have not heard anything about it. There is nothing like sexual harassment in the movie industry.
How are you so sure?
If a man asks a woman out which is a normal thing, it is left for her to accept or say no to his advances. A man can promise you heaven and earth just to get you into his bed, but if you don't want it, you will not be forced to do it. So, sexual harassment doesn't exist, but what exists is consenting agreement between a man and a woman.
Who has the greatest influence on you in the movie industry?
Years back, Genevieve Nnaji, Liz Benson Joke Silva and her husband Olu Jacobs used to influence me a lot. Now, I learn from actor or actress I meet on set because every individual is unique. Right now, I have no one I look up to in the industry, I am just impressed with their careers.
What were the initial challenges you felt you couldn't cope with when you came into Nollywood in 1996?
I just saw people during audition standing as if they were for sale. I didn't understand why chairs shouldn't be provided. And after standing for a whole day, I didn't understand why I shouldn't be given roles. Later, I understood that not every audition you partake in gives you a job.
You may not fit into the role, you may fit into the role and your diction is not perfect. Your diction might be perfect and you may not have the height. There are factors that come into play during auditions. Now, you have to package yourself well if you have to get roles. I have learnt that and it has made me a better actress.
Did your parents oppose your career?
My father opposed my career. He was a disciplinarian to the core, he told me never to come home late even if I wanted to act, but that was impossible. He feared for my safety and was against it totally. One day he locked me out when I came home by 12am from a movie location. It took our neighbours to placate him and he let me into the house. My mother encouraged was wonderful, she supported me totally.
How did you convince your dad afterwards?
It was when people started telling him they saw me in movies that he mellowed. Some even bought him drinks because of me. He was proud of me and gave his consent.
What are those traits that put you off in people?
People don't just put me off. I get to know people first, but if you at any point exhibit pride, I will run away. I don't like proud people. I am jovial and play a lot. I hate liars too. I was brought up to always tell the truth no matter the situation. I meet people first before I judge them.
What kind of people do you love hanging out with?
I love hanging out with happy people.

Gloria Mba
Are you in a relationship?
I am engaged to Leo. He is a cool, loving and understanding man.
What attracted you to him?
We have a lot of things in common. He is jovial, but very reserved. Above all, he is very caring
If you marry Leo, won't you have misunderstandings regarding your busy schedule and are you ready to quit if he asks you to?
I wanted to quit, but he refused. He is solidly in support of my career as an actress. He doesn't see anything wrong with it. He is ready to cope with my career so long as I am happy.
When are we expecting wedding bells to ring?
Very soon. Keep your fingers crossed.
What about nudity in Nollywood?
Why would any one want to pose nude and for what price? I don't buy the idea because it is sickening for a woman, who will become a mother tomorrow. I have a name to protect. Why would ladies do something now that would tarnish their images tomorrow?
I like freedom and wouldn't want people pointing at me on the road saying silly things because I posed nude or acted nude in a movie. I am against it totally. My freedom is more precious than any amount.
How do you relax?
I don't club, drink nor smoke. I spend my time in church and at home sleeping. I also love reading and visiting friends.
Has being a star robbed you of anything?
No. It has rather drawn me closer to my family. When scandals start coming, you have them at your back in support. If no one believes you, they will stand by you against all odds.
Myself
I am Gloria Mba, the second child of my parents, but the first daughter. I have six siblings. I have a diploma in Public Relation from Lagos State University. I am from Abia State. The fact that I am alive gives me joy and strength to move on. I am very cheerful, friendly and positive about life. I enjoy moments with positive-minded individuals.