"You All Will Be Proud That You Hired Me As Your Reps. Member", Hon Dibiagwu Assure Constituents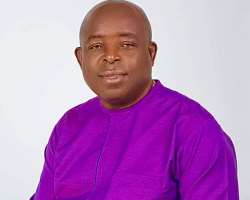 Hon. Engr. Eugene Dibiagwu ( House of Reps Member, representing Ohaji Egbema/Oguta/Oru West Federal Constituency, Imo State)
Hon Engr. Eugene Okechukwu Dibiagwu, a House of Representatives member, representing Ohaji Egbema/Oguta/Oru West Federal Constituency in Imo state has assured his constituents that he will be dedicated to ensure quality, responsible and responsive representation of their interests in the 10th National Assembly.
Prince Dibiagwu stated this in Abuja during a reception in his honour at the inauguration of 10th National Assembly. Many of his constituents have traveled from across the country and the diaspora to formally celebrate with him on the occasion of his induction into the House of Representatives.
On Tuesday, 13th June 2023, at the reception in Abuja, the Izombe born Engineer, businessman, philanthropist and politicians hinted that he fully understand and is in tune with the enormous challenges facing his people, especially the issues at hand. He called for permanent restoration of peace which will usher in the much desired grassroots development. The Honourable member reiterated that he will bring to fulfillment all his campaign promises with particular emphasis on youths empowerment and employment, stable electricity, women development and other critical infrastructural development in the constituency.
He further stressed his commitment to ensure restoration of peace in his constituency through peaceful consultations which will broker a mutual understanding amongst all residents. While sympathizing with various families that have lost loved ones and properties as a result of violence, he called on all stakeholders to join hands to seek permanent restoration of peace and harmonious coexistence in Communities.
Expressing his displeasure at the hardship inflicted on some communities as a result of insecurity, he again called on all and sundry to unrelentlessly use the channel of peace to express their grivances.
He thanked and commended the governor of Imo state, Sen.Hope Uzodinma as well as other cultural, political and religious leaders from his constituency for entrusting the mandate to him.
He particularly thanked Sen.Osita Izunaso, Rt Hon. Goodluck Opia ,Chief Gideon Nwaeze ,his campaign Director General Chief Nwabueze Oguchienti and the Deputy Director General Chief Hon Felix Ubah(Etodike)and all the key campaign team leaders.
He commends all traditional rulers, youths and women groups who devoted their time and resources before and during the election. The Honourable member took his time to salute all his constituents for ensuring peaceful elections. Again, thanking them for their contributions, coperation and hard work as well as unequivocally giving him the mandate to represent them in the 10th National Assembly. He thanked all that came to honour him and prayed safe journey to their destinations.
Dignitaries at the occasion includes Chief Goodluck Opia, former Minister of state Education, Air Vice Marshall B.O.C Ifeobu, Hon Gilbert Nwosu member-elect, Oguta state constituency, some traditional rulers, TC Chairmen from Ohaji Egbema, Oguta and Oru West Constituency, Chief Nwabueze Oguchienti, Chief Felix Ubah (Etodike 1),Comrad Kierian Igwebuike, Chairman Imo state NULGE, Bar.F.U Dibiagwu, former Imo State Commissioner, as well as APC Youths & Women Leaders.