Ethiopian Airlines Host The Nigerian Voice Publisher To Ethiopian Traditional Coffee In Addis Ababa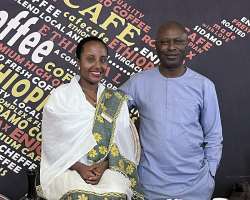 The Nigerian Voice, an online newspaper founded over 15 years ago has had over a decade of media partnership with Africa's oldest and most innovative, thriving, and prosperous airline, 'Ethiopian airlines'.
Founded on April 8, 1946, Ethiopian Airlines, commenced flight operations about 77 years ago and have on her fleet, over 150 commercial aircrafts, including the latest Boeing 787 -9 and more expected deliveries. A proud member of the prestigious 'Star Alliance', Ethiopian airlines is wholly owned by the government of Ethiopia, demystifying the erroneous belief in some African countries that government does not have the capacity to operate and manage a successful business venture.
Mr. Mesfin Tasew Bekele, an Ethiopian electrical and communications engineer is the chief executive officer of Ethiopian airlines group, again, dismantling the compartmentalized opinion in some quarters on the capacity of Africans. Ethiopian Airlines is the pathfinder of aviation industry in Africa, creating aviation one-stop-shop and hub in Addis Ababa and crowning it with 'Ethiopian Aviation University'.
The Publisher of The Nigerian Voice, Mr Henry D. Oduenyi was recently hosted by a representative of the Group's PR and Corporate Communications media relations at the Business lounge at the departure hall in Addis Ababa Bole International Airport. Mr Ashenafi Zeray was excited to usher his guest into the luxurious and cozy Business lounge.
The Business lounge has a portion dedicated to Ethiopian traditional coffee. A setting of the legendary folktale of the origin of Ethiopian coffee, dating back to 750 AD. The Ethiopian coffee is one of world's most sought-after coffee blend and it was obviously confirmed by Mr. Oduenyi. With a flowery taste indicating wine and a berry aftertaste due to the fact that the coffee beans are often dried while still within the cherry fruit of the plant it was enough confirmation. That is the secret of Ethiopian coffee. Ethiopia is one of the largest coffee producers in the world, a feat it has jealously guided and maintained. No wonder the choice to educate and entertain their Nigerian media partner with a significantly unique traditional and economic produce.
Even though the ambiance of the Business lounge was unpretentiously enticing, it was time to continue the journey with a Boeing 787 -9 jet flight to Nigeria. The Nigerian Voice thanks the Ethiopian Airlines media team for a flourishing relationship.