An Open Letter To His Excellency Rev. Fr. Dr. Hyacinth Iormem Alia, The Executive Governor of Benue State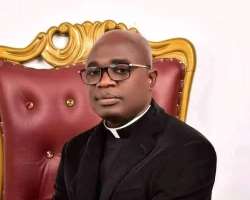 Rev. Fr. Dr. Hyacinth Iormem Alia ( Benue State Governor)
Dear Fr. Hyacinth Alia,
Your Excellency, congratulations on your election as the Executive Governor of Benue State. No doubt your victory is a testament to your dedication, leadership, and the trust the people of Benue State have placed in you. As you already undertake the responsibility of leading the state, I would like to extend my warmest wishes and offer my support in your upcoming term.
First and foremost, I would like to commend you on your remarkable journey, combining your religious 'vocation' with the pursuit of public service. Your commitment to both spiritual and societal development is inspiring to us mostly the young adults and will undoubtedly shape your governance. I am confident that your leadership will be characterised by integrity, compassion and a genuine concern for the welfare of the people.
This letter, as one from a young adult and a proud child of Benue, is my earnest appeal for you to take the time to read fully and comprehend the significance of its message. As you rightly emphasised in your inaugural speech, the challenges of clearing the current backlog of salary arrears, pensions, gratuities, addressing the plight of internally displaced persons, and tackling the persisting insecurity issues particularly the herders-Fulani crisis, have presented significant obstacles on the path to a prosperous Benue. The State faces numerous challenges no doubt that require urgent attention, and I trust that under your administration, the state will experience positive change and progress.
More importantly, as a tech enthusiast, I believe it is also time for you and the Benue government to fully embrace technology as part of the core aspect of the economy, to compete on a global scale, not just with other states in Nigeria but with the rest of the world – this is very possible. As you noted in your inaugural speech, "We, like other countries and organisations, must move forward with digital transformations and the skills needed to implement them through investment in information and communications technology, ICT." Technology has become an integral part of our daily lives, impacting various sectors including education, agriculture, healthcare, infrastructure, and governance. By embracing technology, we can leverage its transformative potential to address the challenges and unlock new opportunities for Benue State. Collaborations between innovative businesses and inspirational technology leaders have overcome insurmountable odds, ranging from enabling democracy to combating disease, hunger, and developing highly sophisticated technology. Mr. Governor, the technology sector, consisting of innovative industries, has the potential to transform our daily lives and propel economic growth as the Food Basket of the Nation, locally, domestically and internationally.
Therefore, as a problem solver with years of experience in the private tech industry, I understand that technology holds the key to solving Benue State's problems. Previous administrations may not have recognized this potential, but it is time to fully automate all processes in the public sector through indigenous, comprehensive technology solutions. This will eliminate leakages and bureaucratic bottlenecks, driving transparency, process optimization, and increasing internally generated revenue (IGR).
The agricultural sector, for instance, plays a vital role in the State's economy. I encourage you to prioritise initiatives in the aspect of technology that support farmers, improve agricultural practices, and enhance food security in the state. By providing necessary resources, infrastructure, and training, you can empower farmers to increase productivity and contribute to the overall development of the State. The potential for technology to transform the lives of the Benue people and bolster the State's economy is immense.
This is evident in the substantial investments that the industry has attracted over the past decade in the Country. You may have come across the news of Paystack, a local tech company in Lagos State, being acquired by an international company, Stripe, for a staggering sum of $200 million to expand into Africa. This is just one example of the numerous investments the technology sector has garnered. It has the power to decentralise wealth creation, allowing ordinary young and driven Benue Indigenes to develop solutions, generate wealth, and surpass the limited wealth generation of the agriculture and oil sector.
i. As the Executive Governor of Benue State, I earnestly implore you to make young people the cornerstone of your governance and in this sector, I mean competent youthsbelow the age of 39 Years old as their inclusion has been lacking, neglected and has hindered the growth of Benue State for many years. To build an enduring legacy, you must earn the trust of the young demographic, who now shape political discourse and trends more than ever before in our nation and around the world. You may require the support of our young adults and future leaders, individuals known for their ideologies, integrity, intuitiveness, discipline, diligence, and determination, to fulfil your numerous promises.
ii. Your Excellency, it is imperative for your government to consider strategies to drive investment in the technology sector using the youths who rallied around you during your campaigns, specifically to benefit the Benue economy and her people. This can further be achieved through the provision of funds and grants for start-ups, establishment of co-hubs and talent factories, incentivisation of tech talent, and creation of necessary infrastructure to ensure competitiveness in the sector. Imagine, Sir, the returns the State could receive by investing in indigenous start-ups like Aiivon Innovation Hub, Besancon Network Etc enabling them to compete on a global scale.
iii. Your government must create a conducive environment for working in the tech space. Issues such as erratic power supply, which is particularly problematic during rainfall, need to be addressed. Your government should make substantial investments in the sector and establish co-hubs to accommodate these talented individuals. Your Excellency, it is vital that these initiatives are not influenced by political considerations but driven by merit, and passion. Allow me to reference the insightful words of the late esteemed Nigerian Army general, C.O. Ojukwu: "Empower the youths through higher education and let them solve Nigeria's problems."
iv. Education remains the cornerstone of civilisation. At this juncture, your government must invest significantly in education, particularly in tertiary institutions within the state. Even if other endeavours falter, the educational system must not fail. Schools and higher institutions should be mandated to adopt the global STEM (Science, Technology, Engineering, and Mathematics) curriculum to foster innovation and development. Government-funded tech accelerators should be established within local and state higher institutions and I believe we have the graduates, manpower, talents and skills to achieve this feat. For instance, my Alma Mata – The Benue State University, Makurdi as well as the University of Agriculture, Makurdi and the Benue State Polytechnic, Ugbokolo has trained individuals who are excelling in the private and public sector and they available for you to discover and integrate them into the State's workforce.
v. Your Excellency, I understand that one of your primary concerns going forward is insecurity. Our State requires a lasting solution to this scourge. To effectively combat communal crises, and other criminal activities, your government must embrace local technology and criminality reportage. Gone are the days when conventional warfare was the sole approach. Technology can make a significant difference. Based on research, I can confidently assert that your government would greatly benefit from engaging local tech experts and talents to develop home-grown solutions to the state's security challenges instead of relying on foreign methods. It is crucial for your government to fully collaborate with local manufacturers of communication gadgets, and surveillance equipment to meet the demands of various security outfits. This approach will not only create more job opportunities within the economy but also encourage innovative engineering and conserve precious foreign exchange.
vi. It is crucial to prioritise the advancement of tech policies that foster innovation, foster healthy competition, and encourage private investment. These policies play a vital role in driving the growth of Internet of Things (IoT) technologies. They should include initiatives to promote global standards that are interoperable and based on consensus, investments in strong communication and broadband networks, integration of effective cybersecurity and privacy safeguards, promotion of technology-neutral solutions, avoidance of imposing technology mandates, and active utilisation of public-private partnerships to leverage the expertise and experience of the private sector.
vii. Furthermore, in order to ensure that your government is beloved by all and remembered for generations to come, it is vital to advocate for effective and balanced intellectual property protections. Such protections should support the safeguarding of all major forms of intellectual property while simultaneously reducing the burden of excessive litigation. Additionally, it is crucial to encourage further reforms that foster local innovation, promote the issuance of quality patents, and prevent the misuse of public and private resources in the technology sector. To protect Benue State's trade secrets both domestically and internationally, it is essential to advance policies that prioritise their security. Moreover, it is important to preserve the carefully crafted balances present in various copyright laws in Nigeria, as they provide the necessary flexibility for innovation and creativity.
viii. Your Excellency, the people of Benue would greatly appreciate it if you prioritise also unity in addition to the above challenges and as one fundamental aspect of your administration's focus, in addition to your seven point agendas. Promoting policies that foster greater understanding and cooperation among the people of Benue is crucial is crucial in the technological sector. This suggestion arises from the fact that generally, our land is currently inundated with bitterness, resentment, hostility, unpleasantness, and animosity. Many of our people are hurting, living in poverty, scarcity and have become beggars in their own land full of wealth and opportunitieswhich should never be so.
Your Excellency, as you assume the leadership of Benue State, I am confident that you will lead with God's wisdom, fairness, and a deep sense of responsibility. I urge you to remain accessible to the people, listen to our concerns, and involve the young people, the youths in the decision-making processes that affect their lives. Transparent and accountable governance will build trust and foster a positive relationship between the government and the citizens.
Please be assured of our unwavering support as you embark on this journey. I believe that under your visionary leadership, Benue State will witness remarkable progress and development. I look forward to witnessing the positive changes that will unfold under your administration and may you be guided by wisdom and strength as you undertake this significant responsibility.
Yours sincerely, Concerned Benue Indigene, Caleb Onah, [email protected]