"My Father Died After I Killed A Crab" Man Narrates Ordeal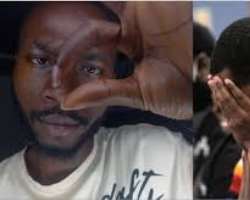 A Nigerian Twitter user, tinny_vanilla, is already lamenting the predicament that befell him after killing an innocent crab in his compound.
Tinny Vanilla, via his Twitter, recounted how he lost his father shortly after he cut short the life of a vulnerable crab.
Tinny who is bewildered after his father's death began to wonder if his late father's life was on the crab he bedeviled.
According to Tinny, his late father had on several occasions warned him to steer clear of vulnerable animals. But, the warnings did not go down well with him because he was always drawn to killing animals as such.
Significantly, Tinny recalled that his late father specified the time and date he should never attempt to kill any living thing. Unfortunately, he disobeyed him and he consequently faced the plight.
Tinny's post read:
"My dad has always Instructed me not to kill any living thing I see around, 11pm 8th April 2010 I saw a crab walking inside the compound so I killed it. The next morning my dad was dead already," he said.