MY SACK POLITICAL – OKEREKE ONYIUKE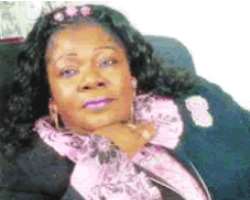 Okereke-Onyiuke
Former Director General of Nigeria Stock Exchange (NSE), Prof Ndi Okereke-Onyiuke, yesterday broke her silence, telling the House of Representatives Committee on Capital Market her removal was political.
Ndi Okereke- Onyiuke was last week sacked by the Security Exchange Commission (SEC), just as the chairman of NSE, Alhaji Aliko Dangote was suspected.
Dangote had raised alarm that accounts of the NSE were in red and that the Exchange was finding it difficult to meet its financial obligations.
But appearing before the House Committee led by Alhaji Umar Buba Jibril, the former NSE boss said that the crisis leading to her removal was political.
She informed the committee that whatever allegations against her were purely political because the account of Stock Exchange was intact. The former DG said that since 28 years that she returned home from the US Stock Exchange, 'at no time has my integrity been put to question. 'I will not be associated with corrupt practices. I have my name to protect. Whatever allegations you hear are not true. I will give details later, as my present ordeal is purely political,' she insisted.
Okereke-Onyiuke likened her ordeal to the Biblical mothers disputing about the ownership of a child during the reign of King Solomon, when one of them wanted the baby split into two, saying 'I will rather allow myself to be attacked than to destroy the market I built.
'I will rather not say or do anything that will put heat on the market because for 27 and half years, the market is my baby, which I carried in my womb, my whole life depends on it'. Okereke-Onyiuke told the committee that contrary to newspaper reports and what the public had been fed with, she was honest and had her name to protect as a professional and allayed the fears of Nigerians saying 'no money is missing,' the former DG said following the closure of her office, she had no access to all her supporting documents, but promised to give enough necessary information to satisfy the yearnings of the lawmakers.
Earlier, the Chairman of the Committee, Umar Jubril said the meeting was a fact finding one to extract information from all stakeholders on the crisis at the Stock Exchange. The meeting later went into a closed-door session after the opening remarks.