When Did Poverty Assume the Colour of Crime?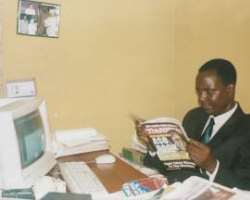 Ugochukwu Ejinkeonye (The Author)
It was a normal news report in a not too recent newspaper; the type we are used to seeing regularly, but would, most likely, merely glance through before turning our attention to more 'important' matters. But when I saw this particular report, confined to a small corner of the newspaper, something about it spoke a very clear message to my heart.

Under the heading, "Cow Thief Bags 12yrs Jail," the report said that an Oshogbo Magistrate Court presided over by Mrs. Ayo Ajeigbe had sentenced a certain Mr. Audu Mustapha to 12 years imprisonment for stealing a cow belonging to one Julie Idi. The estimated cost of the cow was N60, 000. The police had accused Mustapha of selling the cow and using the proceeds to purchase a small truck with which he conveyed 'liberated' cows to either where he sold or hid them.

Now, if Mustapha who had earlier served a jail term in Ilorin for a similar offence, does not have a powerful, well-connected godfather, especially, in the Peoples Democratic Party (PDP), or other equally criminally powerful places, he should, as you read this article now, be in one of our dilapidated and uninhabitable prison houses enduring the just recompense of his grave sin against the State, and dreaming about his young (and probably beautiful) wife and their three tender children.
I must hasten to add that nothing can justify Mustapha's ungodly action. Even people poorer than he is are resisting the temptation to steal; he knew the dire consequences of his chosen career and still tarried in it, because, it had juicy promises of quick, undeserved wealth. Now, the excruciating day of reckoning is here, and he has no choice but to quietly savour the bitter reward of his criminal endeavours. I will only sympathise with his family if they were unaware that in order to put food on their table, Mustapha was cruelly dispossessing other people of their fat cows. This can only teach one lesson: when crime is punished, deterrence is instituted.

Now, if that is always how all such cases end, society would really be a better place for all of us. While down here, we, in an impressive show of self-righteousness, may haul condemnations further down on Mustapha with every scorn and unmitigated rage befitting a common criminal, more discerning people would rather view him as an unfortunate victim of a disastrous accident on his way to the exalted circle of the nation's elite class. I suspect that he did not bother to study the rules of the game very carefully and so may have easily run foul of a very important law of the game, namely: Thou shall not be too greedy.

What this means is that if he had generously 'settled' the OC's at the checkpoint (All correct, Sir!), or even 'cleared' with the DPO of all the police stations on his route, he would most likely had escaped the humiliating appearance before the learned judge in Oshogbo, even if he had stolen a human being! In fact, he would have been a free man today, doing his 'honest' business without let or hindrance, and even getting the opportunity once in a while (that is, if he prospers very well) to attend state banquets and shake the smooth, soft hands of the high and mighty, more so, if he had allied himself with some influential 'responsible' party elder in his community, secured a Molete-kind of immunity, and regularly donated handsomely to help the 'great party' secure its 'fraudslide' victories.

The truth we all know today is that many of the people parading themselves as prominent Nigerians today climbed to the top through the Mustapha route or variants of it. At the risk of repeating myself, assuming Mustapha was not caught and disgraced this early in his career, and his business had thrived and he had been wise enough to invest his wealth in the installation of many of his less-successful colleagues in power, he would today be dinning with 'highly distinguished and honourable' lawmakers, governors, foreign and local diplomats and even the president, and being invited regularly to chair high profile events where brilliant sermons would be delivered on integrity, transparency, anti-corruption and good governance – citing his exceptional industry and sterling honesty as worthy of emulation by today's youths.

But, while he would now languish in jail for twelve years for stealing a cow that sells for about N60, 000, very important convicts like Big Tafa, Governor-General Alams and Boy George got a few months' 'rest' each in cosy prison suites for playing around with the nation's billions. And many of their more daring colleagues in criminal accumulation are still out there throwing expensive parties and hobnobbing openly with the nation's rulers whose 'zero-tolerance for corruption' is universally acknowledged!

Something must be wrong with a nation that severely punishes small thieves and celebrates bigger criminals.

In 1999, Gen Olusegun Obasanjo, whose farm had failed, was practically a poor man, and he did not hide it. One of his closest aides had even told the nation that what the man had in his account was only N25, 000. But now, as former president, his Bells University and Secondary School is valued at billions of naira. There is also his multi-billion naira farm, a couple of other companies and investments, a Presidential Library Project for which billions of naira were raised through a method Prof Wole Soyinka aptly described as "Presidential extortion", and his famed bottomless pocket which has effectively crowned him as one of the richest billionaires this side of the Atlantic.

Indeed, until a decent and patriotic leadership emerges in Nigeria , Obasanjo would never be compelled to explain the sources of his mysterious wealth, or how $16 billion spent on well-advertised power projects only plunged Nigerians into deeper, thicker darkness. Nor, will anyone ever ask Gen Ibrahim Babangida (who is scheming to rule Nigeria again) how $12 billion suddenly developed wings and flew away right under his nose as military president.

As cases of suspected graft (and they are legion) are swept under because the calibre of the persons involved, impunity is effectively entrenched. Influential Nigerians abound whose sources of boundless wealth are shrouded in very deep mysteries. Nigerians know many of them and quietly dismiss them as Very Important Criminals (VIC), but the government and even the media celebrate them as 'statesmen' and 'patriots'.

Unlike Mustapha, they were able to avoid being caught early in their career until they amassed enough wealth to qualify for admission into Nigeria 's privileged class of untouchables. Some of them even get National Honours and are appointed or 'elected' into highly exalted positions of power and influence, where they characteristically help immensely to deregulate and institutionalize stealing and political corruption.

What all these go to show is that in Nigeria , it is, perhaps, safer and more rewarding to be a successful criminal than a poor man – which is very saddening indeed.

Successful criminals are either in power or its corridors, or friends and associates of those in power. They are those set of 'law-abiding' citizens who are able to purchase and build palatial homes in 'approved' places. But the poor are the confirmed criminals, always hounded and oppressed by the government, for being able to only afford to seek refuge in the slums, which governors, ever thumbing their noses at them, have either sacked or already marked out for demolition and prompt reallocation to the same members of the privileged class.

We all know that it is usually the honest poor that get arrested on the mere suspicion that their haggard, hungry looks suggest they might be criminals, or even for such non-existent offences like 'wandering', and dumped and forgotten in detention camps for being unable to buy their freedom. Yes, they are the same people that suffer most the consequences of bad roads (they can't afford to fly), power failure (they can't afford healthy alternatives), insecurity and increases on the price of petroleum products, which in turn jack up prizes of goods and services. In Nigeria , where crime is class-defined, poverty has since been criminalized. The rich only get into trouble when they are on the wrong side of the power equation, and their 'trials' are celebrated to prove the point that "no one is above the law." If you, dear reader, don't know all these, then you hardly know anything yet about Nigeria .
———————————————————————
[email protected]
www.ugochukwu.blog.com
www.ugochukwu.wordpress.com
August 2010

Disclaimer:

"The views/contents expressed in this article are the sole responsibility of the author(s) and do not necessarily reflect those of The Nigerian Voice. The Nigerian Voice will not be responsible or liable for any inaccurate or incorrect statements contained in this article."