Finance Ministry & Remi Babalola (July 2007 - August 2010) - A Post Mortem.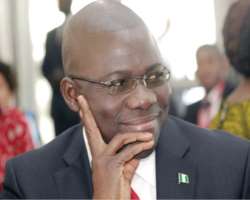 PHOTO: FORMER MINISTER OF STATE FOR FINANCE AND NOW MINISTER, SPECIAL DUTIES, MR REMI BABALOLA.

ABUJA, August 11, (THEWILL) - THEWILL reported last week about an impending minor cabinet reshuffle by President Goodluck Ebele Jonathan, as the nation moves towards the critical period of electioneering.
The report among other things said the erstwhile Minister of State for Finance, Mr. Remi Babalola would be affected by the changes. Babalola was appointed by the late former President Umaru Musa Yar'Adua in July 2007.
Babalola was one of the very few ministers to have remained in one ministry for three years. This might not be unconnected with the vibrancy and changes he had brought to the fore in the ministry and other assignments he had handled. He had excelled in the public and private sectors of his working career.
Babalola, was instrumental to the current implementation of the e-payment by the Federal Government across its ministries, departments and agencies (MDAs); development of the medium term fiscal policy framework, the resolution of the prolonged crisis in the insurance industry as well as the development and implementation of a code of corporate governance for the insurance sector.
As a mark of recognition for his performance, he was among the 20 ministers retained during the cabinet reshuffle by President Umaru Musa Yar'Adua in October 2008 and was also given additional responsibility as the supervisory minister for the Federal Capital Territory (FCT).
Also as a testimonial to his achievements in the administration, Babalola chaired some high-level committees which positively impacted on the economy in the last 32 months and was a member of other committees.
Among the committees chaired by the minister were: the Federation Account Allocation Committee (FAAC), the Export Expansion Grant and the Presidential Committee on the Adjustment of 2009 Budget.
Babalola was a member of National Economic Management Team, Presidential Committee on Restructuring of Federal Ministries, Tripartite Committee on National Minimum Wage, Cash Management Committee, and Committee on Federal Capital Territory Authority Project Variations.
Specifically, he was able to ensure openness, transparency and accountability in the monthly distribution of the Federation Account devoid of acrimony. He particularly eliminated the usual time lag between when revenue is distributed and actual payment received by the three tiers of government.
This singular act has made it possible for workers to receive their pay latest 25th or 26th of each month rather than the following month as well as greatly enhanced the ability of the three tiers of government to meet their obligations timely.
As a distinguished public officer, who was sworn on oath to protect public good, the former minister had in all circumstances been guided by the need to be fair but firm on critical matters affecting regulation and management of the finance industry. This indeed was the thrust of his mandate.
His contributions in the present Administration have seen him being made a member of several Presidential Committees and also being a Supervising Minister of the Federal Capital Territory for a short period, during which he recovered over N46 billion proceeds from the Sale of Federal Government of Nigeria Houses and transferred same into the coffers of the government.
At the FCT, Remi designed ways of ensuring that the Internally Generated Revenue (IGR) capability of the Territory was enhanced through the centralisation of revenue collection and documentation by the Department of Treasury and introduction of e-payments.
Mr. Babalola has demonstrated proven track record of integrity, diligence, commitment, and abiding patriotic zeal in his meritorious service to the nation and has not been compromised in whatever way.
His life philosophy is "Come let's live our dreams, let's give it all we got" while "continuous and never ending improvement (CANI)" has been his mantra for service delivery.
There is no doubt that Babalola came to public economic management well prepared with a blend of appropriate academic and professional training and vast accounting and financial sector experience.
He was an Executive Director of First Bank of Nigeria Plc in charge of Lagos and West as well as Consumer Banking and Electronic Payments until his appointment as Minister of the Federal Republic of Nigeria on July 26, 2007. He has both brain-on and hands-on experience in organisational renewal, value creation and leadership effectiveness.
Remi was a Deputy General Manager (DGM) and Divisional Head of Corporate Planning & Group Coordination of the First Bank before his appointment to the Board as Executive Director. The overarching focus of his job was involvement in turning First Bank into the "Clear Leader" of the Nigerian Financial Landscape.
Furthermore, Remi was a General Manager with Zenith Bank Plc before he was headhunted by First Bank. He had a meritorious rise through the ranks from a Deputy Manager to a General Manager, spanning over a decade of cognate banking experience.
His background and experience includes development and implementation of new initiatives to upgrade customer service quality, management of high quality risk assets portfolios, management of a fast growing deposit base, proactive formulation of strategies to generating superior profitability, and direction of asset liability management.
Remi has in-depth knowledge and proven achievement in financial and credit analyses, trade financing, contemporary investment banking, funds management, international and local banking operations. He is known in the industry for value management in generating consistent superior returns with sustained earnings growth.
He was formerly the Financial Controller and Chief Strategist of Zenith Bank, responsible for Bank-wide planning and budgetary process, Domestic Treasury and foreign exchange management support, establishment and coordination of the profit centre concept. Remi pioneered some Profit Centres of the Bank.
His other previous job experiences include a four-year stint with the former Arthur Andersen (now KPMG). While there, he was responsible for auditing, consulting, training and development assignments in the Banking and Finance Group. He also had a stint with Price Waterhouse for a year and half.
Remi graduated as an Agricultural Economist from the University of Ibadan, and trained as a Chartered Accountant at both Price Waterhouse (now PriceWaterhouseCoopers) and Arthur Anderson.
He holds a Masters of Business and Finance from the University of Lagos and has participated in various workshops, courses, seminars and programmes including Citibank Senior Management Course (1993) in Kenya, Competitive Strategy Programme at INSEAD, Fontainebleau, France (2003) and Leading Change & Organisational Renewal at Stanford Graduate School of Business, USA (2003); Implementing Strategy at Wharton Business School (September 2004), and Developing Strategy for Value Creation at London Business School (Oct 2004).
Others include Mergers & Acquisitions at Wharton Business School, USA (January 2005); Making Corporate Boards more effective at Harvard Business School, USA (March 2007) as well as the prestigious Lagos Business School.
Mr. Babalola is an alumnus of the prestigious Lagos Business School, and a member of the Commonwealth Business Council, the World Economic Forum and the IMF/World Bank Programme of Seminars. He is a Director of First Funds Limited. As the Hon. Minister of State for Finance, he is the Governor of the African Export Import Bank (Afrexim).
Remi's personality traits include broad vision combined with a proactive, resilient approach and diplomacy in handling sensitive issues. He is of impeccable character, excellent carriage, wide social and business network, assertive leadership and maturity. He is known for demonstrated entrepreneurial spirit, exemplary customer focus with genuine commitment to diversity and social responsibility.
His scholarly achievements date back to his University days when he was awarded two prizes from the University of Ibadan. He is also an ICAN prizewinner and NYSC merit Award recipient. He is a four time-winner of MD/CEO award and Zenith Bank 1994 staff of the year awardee.
Remi is a Fellow of the Institute of Chartered Accountants of Nigeria as well as Chartered Institute of Taxation of Nigeria, a member of the Nigerian Institute of Management, the Chartered Institute of Taxation of Nigeria, and the Institute of Directors of Nigeria.