Goodseed Daily Devotional 26th May 2023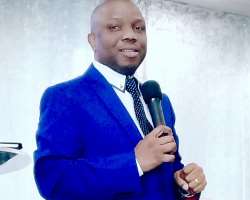 Apostle George Amadi (Lead Pastor: Goodnews Bible Church, London)
TOPIC: MAKE THE CHOICE OF GOING TO HEAVEN
SCRIPTURE: Then shall the dust return to the earth as it was: and the spirit shall return unto God who gave it. Ecclesiastes 12:7
Life is a product of choices. Everything about life is choice. The choices you made yesterday or failed to make are responsible for the place you find yourself today. And the choices you are making today are determining where you will be tomorrow. Decision determines destination. The road you follow determines the place you end.
Today, we are looking at the choice to make heaven. The most important choice to make in life is the choice of not running this race in vain. It is the choice to make heaven your home at the end of our life's journey on this earth.
The Bible says, "What shall it profit a man if he gains the whole world and loses his soul, and what shall a man give in exchange for his soul?" (Matthew 16:26). It is the choice to end with God and not with satan. How would it be after all this church going, you found yourself in the same hell with murderers, ritual killers, and terrorists? God forbid! It is not worth it.
Make a choice – whatever be the temptation, ask God to help you to overcome. Whatever be the setback, the drawback, ask God for mercy. He is merciful; He will help you. He will give you the grace to overcome.
Beloved, hell is everlasting lockdown, eternal quarantine in the flames and heat of fire. If you don't like heat, smell, pain, or darkness, don't go to hell. If you enjoy the Presence of God, don't go to hell. May you not find yourself in hell in Jesus Name.
Determine to please God with your life. Ask God for the grace to live for Him, run the race to the end. Refuse to be entangled by the things of the world.
PRAYER: Lord, I came from You. I will live for You and spend my eternity with You Lord. Give me the grace to love and serve You to the end, in Jesus' Name.
Goodseed Daily Devotional is the publication of Apostle George Amadi- Senior Pastor Goodnews Bible Church London. If you are in the London area do worship with us at 2nd Floor Unit 4 Westmoreland House Scrubs Lane White City NW10 6RE