Zulu Okafor's Article: An Added Salt To The Injury Of Widowhood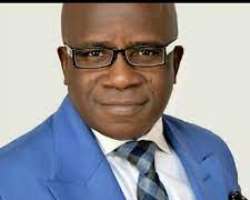 It is not an exaggeration to say that in Nigeria that after a woman loses her spouse to the cold hands of death, and then becomes a widow, she would thereafter become a victim of accusation, criticism, and actual blame for being responsible for the death of her spouse. Whether the death of her spouse was due to a spiritual attack orchestrated by either relatives, friends, or acquaintances, even in some cases where the death was naturally caused or self-imposed, the widow; even being bereaved and under emotional pain as a result of the death of her spouse is usually pointed accusing fingers at, or suspected for having a hand in the death of her spouse.
For the sake of clarity, it is expedient to say that "To add salt to an injury' or "To rub salt in a wound", simply means to deliberately make someone's misfortune or unhappiness worse. Given the defamatory tone of Zulu Okafor's article which he wrote and published in the media ostensibly in honour of his late friend, Mr. Obinna Nwafor, alias Saint Obi, it is not a misnomer to say that he has added salt to the injury of widowhood by casting Obi's wife in a bad light as he through the article made her seem to be a bad person.
Besides being cast in a bad light or being scapegoated, not a few widows are known to pass through the experiences of grief, loss, or trauma, and also face economic insecurity, discrimination, stigmatization, and harmful traditional practices on the basis of their marital status, soon after the demise of their spouses.
To buttress the foregoing view, in most Nigerian communities, widows do not have equal inheritance rights, and some of them are known to have been deprived of the lands they acquired together with their late husbands, even as some of them were upon the death of their husbands evicted from their homes, or even separated from their children. As if the foregoing sad narratives are not enough, some of them were denied access to inheritance, bank accounts, and credit, which can have significant financial impacts on them, their children, and future generations.
Against the foregoing backdrop, not a few readers of this piece at the moment may conjecture that the widely held notion that widows are been scapegoated upon the demise of their husbands is a result of a deliberate and sustained effort of the mass media to exaggerate the issue in order to get audience attention or to make them behave in certain ways. It is not true! Widows, particularly in Nigeria, and generally in Africa, are often scapegoated after losing their husbands to the cold hands of death.
For instance, Zulu Okafor, in his article poignantly made an account of how actor Saint Obi's marriage caused a rift between him and his friends as well as negatively impacted his acting career. Being a close friend of the late actor, not a few Nigerians who read the revealing article swallowed his narratives hook, line, and sinker.
According to Okafor, Saint Obi's union with a financially successful woman drastically altered the trajectory of his life. He alleged that the woman held a prominent position in a telecommunications company and that her siblings always perceived Obi as someone solely interested in her wealth.
As if the damning allegations were not enough, Okafor went on to reveal that Saint Obi endured constant harassment from his wife's siblings, which eventually led to the dissolution of their marriage.
Furthermore, Okafor disclosed that the actor's health began to decline in the middle of the previous year, culminating in his untimely demise.
He wrote, "Their marriage was at best a dramatization of love. It was quick. He barely told us that he found a wife. Then, the marriage happened. It was something of a mystique, only those involved understood the histrionics that played out. None of us who were his closest pals, who walked with him through the crucible to the crest of his career in Nollywood, was invited. The distance between us and the guy I admirably called Saint of the Storm had begun. This gulf would widen with each year. We saw him perhaps once a year after this marriage.
"And life actually seemed to have given him a fair shake of the dice. He dressed well, drove big cars, and even his skin, in literal lingo, spelled wellness.
Fairly enough for Obi's wife, it was not alleged in the article that she on a particular day chased away Zulu Okafor or any of her husband's friends during a visit to their residence. Though he wrote that he once visited him in his office. What manner of a friend is that that they only talk on the phone and by happenstance meet on the street? Again, it is foolhardy to be looking up to meet a friend that is battling with his health to always be around social hangouts.
Unarguably not being comfortable with the allegations spewed by Zik Zulu Okafor in the scathing article, the family of the late Nollywood actor has put a statement following the article that was adjudged to have cast Obi's wife and extended family in a negative light.
As gathered, the two elder sisters of the actor who issued a press release on behalf of the family stated that the allegations made in the article are untrue. Speaking for the Nwafor Family, Ugoeze Edith Chinyere Obichuku, and Freda Nwachukwu wrote, "Our attention has been drawn to the publication by one Mr. Zik Zulu Okafor concerning the death of our son, Mr. Obinna Nwafor, popularly known as Saint Obi, and the accompanying negative commentary in social and other media portraying his widow in an unfair and most defamatory manner. This is in no way, shape or form an accurate portrayal of the Lynda that we know and relate with."
They added that the insensitive and false allegations were made without any input from the family. In their words, "The Nwafor family also views the said article by Mr. Okafor as sad and most unfortunate. It was neither written in consultation with any member of the family nor authored with our consent or authority. We totally disassociate ourselves from it. The views and allegations contained therein are entirely the opinion of the writer. They are false, malicious, and insensitive to the wife, children, and entire family he left behind."
The sisters ended their statement by encouraging the public to respect the family's privacy during this trying time, adding that the funeral rites will be communicated soon.
"This is a mourning period for the family, and while we appreciate the condolences of friends, fans, and well-wishers, we ask that the family's privacy be respected at this time. The funeral rites will be communicated to the public in due course," they added that slew of commentaries have dominated the media space since the death of the Nollywood actor. Unfortunately, the comments have not been palatable.
In fact, the family's rebuttal could not have been issued at a better time than now as the commentaries it has generated and left to be trending in the media space since the death of the actor have not been palatable.
Given the pain which widows in this part of the world go through, it is expedient to pontificate by saying that death is part of everyone's life and coping with grief is one of the most uncomfortable and difficult experiences anyone will ever face. When you are a friend or family member of someone who is mourning the loss of their beloved spouse, you may find yourself unsure about how to share your feelings, fearful of saying the wrong thing, and uncomfortable about what you should do. In my view, Zulu Okafor ought not to have written the article not to talk of going ahead to publish it as virtually everyone that knows Saint Obi is in a mourning mood, and more so, his article has added salt to the injury of widowhood.
Disclaimer:

"The views expressed on this site are those of the contributors or columnists, and do not necessarily reflect TheNigerianVoice's position. TheNigerianVoice will not be responsible or liable for any inaccurate or incorrect statements in the contributions or columns here."