Why The US Visa Ban Must Include Tinubu: A Letter To President Biden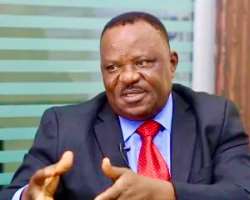 Houston, TX.
May 20, 2023
The Honorable Joseph R. Biden, Jr.
President of the United States
The White House
1600 Pennsylvania Avenue, NW
Washington, D.C. 20500.
Dear President Biden,
It is with great pleasure that I welcome the decision of your administration to fulfil its promise to impose visa ban on Nigerian politicians whose actions or inactions led to various acts of terrorism, including money laundering, thuggery, assassinations, destruction of property, and street killings during the Nigerian elections of 2023.
Before going further, please permit me to re-introduce myself. I am an Oil & Gas executive resident in the United States of America and currently sit at the board of First Texas Energy Corporation as chairman. I have also taught in many U.S. universities and colleges for over two decades and remain an Adjunct professor at the Houston Community College System. More relatively, I am a member of the All-Progressives Congress (APC), the ruling party in Nigeria, through which I explored a presidential race during the country's 2019 electoral cycle.
This letter is a solemn appeal for you to use your good offices to ensure that the visa ban includes Bola Ahmed Tinubu, the presidential candidate of the APC in the controversial 2023 election. The lingering stench of blood flowing from the said election has its origin in his brain. In short, any attempt to exclude him is akin to any discussion of the January 6 U.S Capitol Attack without a mention of Donald Trump.
The conspiracy of violence that marred Nigeria's 2023 elections was not only plainly premeditated and planned, but it was also well studied, foreseen, and reported to the public and relevant authorities before it hatched.
For example, in a widely circulated essay, titled "Tinubu's Blind Ambition Provoking a Civil War, By SKC Ogbonnia", I had exposed the very conspiracy that came to pass. The essay was published June 16, 2022, eight months before the election, and copied to the U.S. intelligence community, including the Department of State. It is a chronological account of Tinubu's history with violent extremism. An excerpt reads as follows:
"Keenly aware that he is neither physically fit nor morally sound to mount a presidential campaign let alone govern Nigeria, Mr. Tinubu is already attempting to win by hook or crook. Barely less than one week after grabbing the presidential ticket of the All-Progressives Congress (APC), he is already fanning the embers of war. Very glaring is a recent incident in which armed thugs were sent to disrupt the traders of Alaba International Market, Ojo, Lagos State, who went the extra mile to shut their shops in order to obtain their Permanent Voter Cards (PVC)."
"A selling point in Tinubu's march to the APC nomination is the assumption that he dictates who wins and who loses in Nigeria's most populous state of Lagos. But, as an APC chieftain and the governor of Kaduna State, Nasir el-Rufai, noted in a recent speech, Tinubu has been able to lord himself over the good people of the state because of low voter turnout. In Governor el-Rufai's own words, "Here in Lagos, you have over six million registered voters, only about a million voted (in 2019 general elections); five million did not vote." [end of el-Rufai quote).
"This low voter turnout is rooted in Tinubu's lack of popularity among the masses. To that end, he has always deployed all manners of terror to suppress the votes of his opponents. Like the attack on the Igbo traders at Alaba International Market, armed thugs were also used to unleash terror on the voters in many parts of Lagos State with a heavy Igbo population during the 2019 elections."
Despite massive intimidation and voter suppression, which is his stock in trade, Tinubu still lost his home state of Lagos in the 2023 presidential election. Given that he owes his huge fortune to the Lagos State treasury, it did not come as a surprise that the state's governorship election that came few weeks later became a do or die.
Mr. President, there is a clear pattern. Bola Ahmed Tinubu represents the core of a corrupt oligarchy that weaponized poverty to transpose Nigeria as the epicenter of modern-day slavery and violent extremism. Unfortunately, the man has remained above the law in Nigeria. And when there is no consequence for bad behavior, the bad behavior usually worsens.
Today, Tinubu's pattern of terror has permeated the entire Nigerian society. Today, street violence has become the order of the day in the African country. A sad case in point is the recent attack on U.S. Embassy staff in Nigeria, which claimed four innocent lives.
Mr. President, it may also interest you that Tinubu is the same character that forfeited $460,000.00 to the authorities in the United States of America, allegedly for drugs trafficking and money laundering. Yet, he is set to assume the leadership of Africa's biggest economy.
The truth, if it is already not manifest, is that Bola Ahmed Tinubu is a threat to world order. As various intelligence reports attest, though Nigeria's anti-corruption agency concluded that the degree of his corruption is one of an "international dimension", his true identity remains unknown. But well-known is the fact that he has been able to avoid prosecution by masterfully deploying his stupendous illegitimate wealth to seize and control Nigeria's power apparatus.
Therefore, the U.S. ban on corrupt Nigeria politicians only goes to become a shaggy-dog story if Bola Ahmed Tinubu is not the first person on the list. In fairness, someone of his character does not deserve to be allowed into any country of the world. His proper destination ought to be the International Criminal Court at the Hague, where he should be charged with crime against the humanity.
Mr. President, the Honorable Joseph R. Biden, I urge you, I urge you to seize this moment in history. I urge you take a global leadership role on this matter by seeing the world as one. I urge you to make the world a better place by answering the call of the Nigerian masses. Failure to hold Mr. Bola Ahmed Tinubu accountable is a welcome breeze to intercontinental terrorism, brazen corruption, money laundering, and drug trafficking.
Sincerely,
SKC Ogbonnia, Ph.D.
Houston, TX.
CC: U.S. Embassy and Consulate, Abuja, Nigeria
CC: The United Nations Security Council Counter-Terrorism, United Nations, N.Y., USA.
CC: Office on Drugs and Crime, United Nations, N.Y., USA.