Under PMB And Umahi, Peace Was No Priority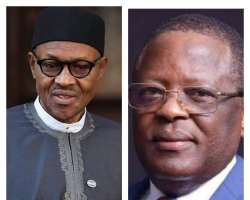 The best gift a leader can gift his constituency is peace. In 2015 when President Muhammadu Buhari, and Engr. David Umahi took over power in the country and Ebonyi State respectively, their respective constituencies were in need of peace. For instance, northern Nigeria was boiling as a result of the activities of bokoharam, while the gateway community of Ezillo in Ebonyi State was at war. While Buhari promised to end corruption and and insurgency in Nigeria; Umahi promised to restore peace in Ezillo and other communities, never to steal, etc.
Eight years after, corruption became statecraft under Buhari. The former National Chairman of APC, Adams Oshiomole, publicly announced that, "If you join APC, your sins (corruption cases) will be forgiven"! APC used this strategy to take over many states including Zamfara and Ebonyi State. Under President Buhari, Nigeria's corruption index reached an all-time high of 24.00 points while her corruption rank became 150.00 in 2021.
In like manner, insecurity has spread to all parts of the country including Abuja. For instance, kidnapping and terrorism spread all over the country to the point that the only safe means of traveling was by air. Abuja was attacked by insurgents who killed members of the presidential guard and held Kuje prisons under siege for hours. Governors and federal government agents negotiated with bandits and even paid ransoms to them, yet Buhari refused to dialogue with IPOB or release Nnamdi Kanu even when courts have ordered for his release. The nepotic composition of Buhari's government alienated sections of the country and increased separatist agitations both in intensity and number. Buhari excluded the Southeast from his security council. While not denying that General Irabor is Igbo, the fact remains that he is not from the Southeast geopolitical zone. It is on record that both the Fulanis and Yoruba spread across different states and geopolitical zones were fully represented in every facet of Buhari's administration. The alleged communication of military officers to President Buhari and the Nigerian Senate accusing military top brass of arms racketeering sufficiently grounds the abysmal scorecard of the Buhari administration on security and peace.
In Ebonyi State, the first casualty of Umahi's administration was his promise not to steal or unjustly enrich his family members. All the overhead bridges, uncompleted concrete roads and the overpriced but uncompleted Ebonyi airport were allegedly done by Umahi and his family members under the guise of direct labour. Uncontroverted reports trending on social media allege that Umahi fraudulently acquired over 300 plots of lands in choice parts of Abakaliki capital territory; and has leased the Ebonyi Mall to himself for 99 years for a pittance. Choice shop allocations in Abakaliki International Market were allegedly appropriated by the same man to himself, his family members and few government officials to the chagrin of real traders who were displaced from Abakpa and Regional markets. These are outside the numerous plots similarly acquired in Uburu for which his community people resent him.
The peace promise in Ezillo and other communities on which Umahi rode to power has been deliberately breached by him. Because the Ezillo war was politically motivated, the masses who were also the victims of the war from all sides cooperated with Umahi's preachments about peace and sheathed their swords. Immediately hostilities stopped and quarry began, Umahi introduced procrastination into the most critical ingredient of the peace plan which was resettlement of the war victims. As at this moment, Izzo Community which is the area mapped out for the resettlement of those displaced by the Ezillo war is both uninhabited and uninhabitable. Arrangements for the administrative activation of Izzo Community has equally been abandoned. Through the politics of divide-and-rule, crises were put in hitherto peaceful communities like Ikwo, Ekoli Edda, Effium etc by Umahi's government.
Effium community which has been at war since 2021 is a case study because no land, shrine or property is in issue in the three-year old war which has consumed thousands of lives and invaluable property, kept over 10,000 children out of school and over 40,000 refugees homeless. Umahi confessed before the world in February 2021 that the war was caused by officials of his administration. Since then, his administration has allegedly carried on as if nothing was wrong while tacitly goading the war by shielding suspected sponsors of the war from prosecution. Umahi is yet to deny Indigenous Peoples of Biafra's elaborate revelation that Umahi foisted and has been sustaining the Effium war with the intention of turning the community into a Ruga settlement. Effium Community Peace committee in a press release signed by its chairman, Chief Chukwu Nwefuru, and the secretary, Mr. Onwudiwe Olo, has decried herdsmen incursions into Effium land and called on the federal government and international community to help resolve the unnecessary war.
From all indications, peace and security were not priorities in the respective administrations of PMB in Nigeria; and Umahi in Ebonyi State. Their respective successors should as a matter of urgent public interest work hard to restore peace and security in Nigeria and Ebonyi State.