We've Not Confirmed Hilda Baci's Cooking Sucesss— Guinness World Records Speaks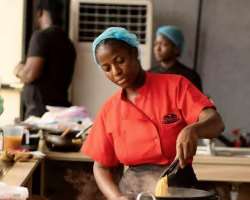 The Guinness Book of Records has stated that it is yet to confirm the achievement of Nigerian chef, Hilda Baci, as longest cooking chef in history.
This is coming after Baci's recoded success at breaking a world cooking record.
The Guinness Records stated its position in response to an inquiry by one Alexander, in the early hours of Monday, May 15, 2023, seeking to know why Baci's success was yet to be acknowledged by the Guinness World Records.
Alexander wrote, "Why is Guinness World Records not showing or talking about Hilda's cook-a-thon? Can't see anything on their pages (Twitter, Facebook, YouTube)."
Replying to the query, the Guinness Book of Records wrote on their official Twitter handle; "We're aware of this amazing record attempt, we need to review all the evidence first before officially confirming a record."
The Nigerian Voice understands that the current record for the world's longest cooking marathon is held by Lata Tondon, who completed the task in 87 hours, 45 minutes, and 00 seconds in Rewa, India, in 2019.