Tourism: Minister Admits Cross River Into Presidential Committee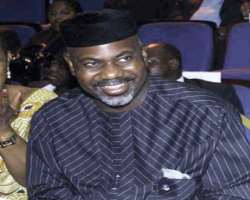 PHOTO: CROSS RIVER STATE GOVERNOR LIYEL IMOKE.
San Francisco, August 10, (THEWILL) - Cross River State has been given an automatic membership into the revived moribund Presidential Committee on Tourism.
Alhaji Abubakar Sadiq Mohammed, Minister of Tourism, Culture and Orientation disclosed this to Governor Liyel Imoke of Cross River State during a courtesy call in Calabar recently, saying the automatic membership is borne out of its commitment to tourism development and promotion.
Mohammed noted that the choice of the 7th edition of the National Council on Tourism, Culture and Orientation in Calabar was not by mistake for there was no better place for the meeting because Cross River is a leading state in the nation in terms of tourism and culture as its achievements and land marks are there for every one to see, adding that the Federal Government supports what the state is doing in tourism and intends to work with the state.
He disclosed his awareness of the state's initiative to establish one of the best resorts/spa in West Africa; the Calabar Riviera Resort, as well as its efforts in preserving tourism sites while acknowledging the well attended Calabar Carnival which is getting new contents to become one of the best in the world, saying that the achievements can not be attained without the political will of the state government as the people are peaceful, law-abiding and hospitable.
The Minister noted that the development of tourism is not only for the people to enjoy because it creates employment and wealth and increases GDP but does away with thuggery, violence, insecurity and crime, adding that his Ministry intends to get inputs from states that have done a lot in tourism and culture to move the industry forward.
Governor Liyel Imoke in his response said the development and promotion of tourism depends on federal government's ability to initiate a policy to address some of its challenges, adding that the provision of budgetary allocation to tourism will enhance its development as well as go a long way to address the lapses affecting the industry.
Imoke called for the introduction of a Nigeriacentric tourism programme to bring indigenes to patronize local tourism products.