El-Rufai, Ribadu fight over 2011 Presidential Election...He lacks any political experience says El-Rufai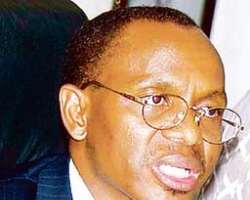 Former EFCC boss, Nuhu Ribadu and Ex FCT Minister, Nasiru El-Rufai, are at war over the formers' speculated bid to run for presidency in 2011.
One of our correspondents learnt on Monday that while Ribadu might have agreed to be the consensus candidate of the Action Congress of Nigeria,(ACN), El-Rufai had thrown his weight behind President Goodluck Jonathan.
A source close to the former minister disclosed this to our correspondent on Monday in Abuja. Also, a stalwart of the ACN confirmed that Ribadu was favourably disposed to running as the party's presidential candidate.
The ACN stalwart, who asked not be named, added that the former EFCC chairman might join the party before the end of this month.
It was learnt that Ribadu might pick Edo State Governor, Adams Oshiomhole, to be his running mate.
But Oshiomhole, whose tenure in office runs till 2014, has not succumbed to pressure from the ACN leaders who believe that a Ribadu–Oshiomhole ticket would be formidable.
The governor's choice as running mate, it was gathered, followed the alleged refusal of Lagos State Governor Babatunde Fashola (SAN) to accept the same offer.


Nuhu Ribadu
El-Rufai was said to have also argued that younger generation of Northern politicians, strategising to seize power from the older generation in the region, could experience a serious setback arising from Ribadu's likely misadventure.
El-Rufai , according to our source, said that young politicians from the North were in need of a phase of political transition during which "necessary political structures would be put on the ground to make a well- coordinated attempt on the presidency."
El-Rufai was quoted as having said that while he was not opposed to the ambition of Ribadu to rule the country, it was his conviction that he (Ribadu) needed more political experience before becoming ripe for the exalted number one office in the land.
Although the former EFCC chairman has not made any public declaration of his intention to run for the Presidency, there are, however, strong indications that he has been approached by some Northern politicians.
Ribadu returned to Nigeria and began consultations for his presidential bid shortly after charges against him by the Code of Conduct Bureau were dropped, apparently at the prompting of the Presidency.
But a source close to El-Rufai, who denied knowledge of any rift between the two however, noted that there were "discussions on ongoing issues."
advertisement
He said, "I am not aware of that. My knowledge of them is that of two brothers who have supported and stood by each other in the attempt to reform Nigeria.
"It will be a surprise, because they are rated among the best public servants to have come out of Nigeria.
"There are discussions on ongoing issues; nobody should be allowed to magnify them. Ribadu was in court recently to solidarise with El-Rufai when he appeared in court recently."
But the ACN source said, "The former EFCC boss is consulting with people of integrity in the country. He will make his stand known before the end of the month."
Also, there were strong indications at the ACN convention on Monday that leaders of the party had been holding talks with Ribadu with a view to presenting him as its presidential candidate.
Though Ribadu was not at the convention of the Action Congress where the party's name was changed to ACN, our correspondents gathered that he would register as a member of the party on August 15.
Another credible source within the party, who spoke under the condition of anonymity, said that Ribadu was in Lagos at the weekend for the wedding of one of the children of the Oba of Lagos, Babatunde Akiolu.
He said, "Yes, it is true that Ribadu was in Lagos at the weekend and we still discussed this issue. It is no longer a secret that he will join the race. That is not in doubt at all. He will register as a member of the ACN in Adamawa State once registration begins; the party made wide consultations before settling for him.
"Everything is set for him to emerge as the presidential candidate of the party; and he has not said that he is not interested in the presidential race.
"We are getting positive signals from him. Initially, we were considering the 3G group, which includes people like El-Rufai, Aminu Masari, and a few others, but we eventually settled for Ribadu.
"Moreso, key members of the party, many of whom have a civil society background prefer him. The party comprises people who kept a link with Ribadu while he was on exile – people who have always been advocates of good governance and transparency."
However, the National Publicity Secretary of the party, Alhaji Lai Mohammed, could not be reached for comments as his mobile phone was switched off.
The ACN Chairman, Chief Bisi Akande, had, in his address at the party's convention on Monday, said, "Our party has set up a high- level committee to go round the country and consult widely to ensure that we field the best of our people, our youths, for key posts in next year's elections.
"We shall not limit this search to politicians or members of our party alone because the problems of our country are of such a magnitude that cannot be left to politicians alone."
An online publication, Saharareporters, had reported on Monday that the former EFCC boss had been holding meetings and consultations with politicians in different parts of the country as part of the plans for his presidential ambition.
It stated that Ribadu had met with different groups in Kano, Kaduna, Lagos and Port Harcourt, adding that he had received "great encouragement to run."
The publication also reported that Ribadu's consultations with groups within Nigeria had now reached a critical point.
"He is likely to declare his presidential bid within the next two or three weeks," Saharareporters quoted an unnamed source as saying.
It added that Ribadu had already set up two presidential campaign offices in Lagos and Abuja and recruited some energetic and skilled staff to run the offices.
According to the publication, Ribadu's campaign staff include his former Chief of Staff at the EFCC, Mr. Dapo Olorunyomi, and Mr. Chido Onumah, who once headed Fix Nigeria, a civil society organ of the EFCC.
Also named as the other campaign staff were Ms. Najatu Mohammed, a female political activist, and Mr. Ike Okonta, an author and columnist.
Ribadu had recently made strong political speeches in Kaduna, Kano and Lagos and enjoined youths to wrest power from the old guards.
Courtesy The Punch