ENYIMBA WEARS SUPER 4 CROWN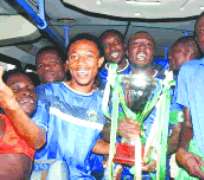 Enyimba players with Super 4 trophy
Reigning Globacom Premier League king, Enyimba International of Aba, last night at the Gateway International Stadium in Ijebu Ode claimed a double by lifting this year's edition of the Nigeria Premier League (NPL) Super Four title to end a glorious season on the high.
Enyimba subdued Kano Pillars 2-1 to maintain the leadership position of the prestigious Super 4 contest. With the result, Enyimba topped the table with 9 points, as it remained undefeated in other two games earlier played in the event.
League's king had to dig deep before it could beat Kwara United 2-1 to consolidate its leadership of the Nigeria's pre-season tournament, the Super 4, on Friday.
The win meant Enyimba stayed top of the standings with six points from two matches, ahead of Sunshine Stars, who beat Kano Pillars 1-0 in the other game of the day despite playing with 10 men for an hour.
In it opener last Wednesday, Enyimba came back from a frustrating 2-4 aggregate loss to Zannaco of Zambia to pip Sunshine Stars of Akure by a lone goal. It was followed up by a 2-1 triumph over Kwara United on Friday before allowing its success in the tournament swing full cycle on a night of tension and drama witnessed by NPL Chairman Davison Owumi, other NPL big wigs and a handful of fans and the sporting press.
In other encounter of the night, Kwara beat Sunshine Stars of Akure 2-1.