Ogun NDLEA To Partner Crescent Varsity On Youth Sensitisation On Drugs
... Commander Lauds Bola Ajibola For Setting Up Ndlea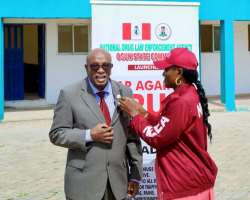 Commander of Ogun State National Drugs Law Enforcement Agency (NDLEA), Ibiba Odili has paid a courtesy visit to Crescent University, Abeokuta for the purpose of adding values in the sensitization of students on drug use and narcotics.
Commander Odili also praised efforts of the institution's Founder,His Excellency Prince Bola Ajibola for setting up NDLEA under decree number 48 of 1989 when he was Attorney General and Minister of Justice in Nigeria" having signed cooperation protocols with United Kingdom and United States on behalf of Nigeria where they imported sniffer dogs to Nigeria", which according to her, are still in use till today.
Welcoming NDLEA Commander's team in his office, the Vice Chancellor, Prof. Ibraheem Gbajabiamila in company with other members of the university management agreed that the partnership would help students' population especially in the prevention of drug abuse which is now endemic.
He said Crescent University was founded about two decades ago by the former judge of the International Court of Justice, His Excellency Prince Bola Ajibola as part of his contributions to breed global citizens who would raise the flag of Nigeria high contrary to misconceptions about Nigerians then.
Quoting a 2018 survey on drug abuse, Commander Odili said "one out of four children abusing drugs is a female", which according to her, was worrisome.
According to the same survey, she added that out of the six geopolitical zone in Nigeria, Southwest recorded the highest number of drug abuse, followed by the South-south of the country.
She said access to social media, peer pressure, lack of parental guide and access to a lot of cash are part of the contributory factors to drug abuse among the youth.
Responding, Prof. Gbajabiamila said the university doors would be open to NDLEA team anytime to assist the students and the community.
Commander Odili used the occasion to formally admit Prof. Gbajabiamila as a member of War Against Drug Abuse (WADA) with a presentation of a professional broche.
Present at the visit are Deputy Commander of Narcotics Ekundayo Williams,Deputy Commander of Narcotics Ekwu Eucharia, Assistant Commander of Narcotics, Oguntoye 'Yemisi, Assistant Commander of Narcotics,Segun Soyoye, Ogun State NDLEA Public Relations Officer,Allen Taylor Funmi and Narcotics Assistant, Olafisoye Kehinde.
Also, members of the university present are Barr. Zakariyya Ajibola (University Registrar), Alhaji Jimoh Bankole (University Bursar), Mrs Khadijat Akande (Principal Assistant Registrar) and Dr Olayemi (Medical