Abia State Retuning Officer, Nnenna Oti Resisted Politicians' Attempts To Compromise Abia Gubernatorial Poll Result — FUTO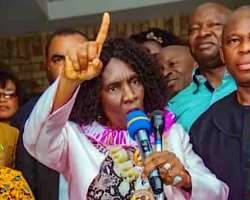 The Federal University of Technology Owerri, FUTO, has asserted that some politicians in Abia State attempted to bribe the Vice Chancellor, Professor Nnenna Otti, to compromise the outcome of the March 18 governorship poll in Abia State where she was appointed as the State Returning Officer.
The university made this known on its website on Wednesday when it updated Otti's profile as the eighth Vice Chancellor of the university.
The profile held that Oti's insistence on the rule of the game saved the situation in Abia as she resisted pressures to compromise.
The post read:"Oti was the returning officer in the Abia state governorship election and was hailed for the key role she played in ensuring that the election outcome was not compromised, despite attempts and pressure from political actors in the state to bribe her".
Professor Oti during the collation of results at the INEC headquarters in Umuahia, intermittently said that the "pastor and mother" in her would not allow her to compromise the poll result.
"I will do right by God and man", she thundered, declaring that nobody would compel her to do the wrong.
But for her insistence on the actual number of accredited voters as captured by the Bi-modal Voter Accreditation System, BVAS machines, the alleged " 108,000 magical votes" from Obingwa Local Government Area, which eventually came down to 27,664 votes when subjected to BVAS, would have decided the poll in favour of the ruling PDP.