Kano APC Gubernatorial Candidate Congratulates Governor-Elect, Abba Gida Gida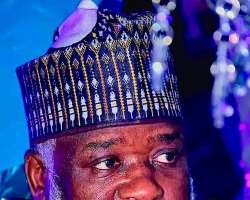 Kano State Deputy Governor and All Progressives Congress governorship candidate, Dr. Nasiru Yusuf Gawuna has congratulated the state governor-elect, Engr. Abba Kabiru Yusuf.
Gawuna made the congratulatory message known in a two minutes, fifteen seconds audio recording on Wednesday, where he prayed for Allah's guidance for the governor elect.
He urged his supporters to exercise patience and remained calm despite the fact that they had complained to INEC demanding the review of the governorship election results but that was not acceded to by the electoral umpire.
''We already laid our complained on issues that occured during the governorship election that made the results of the election faulty, hence demanding for review so that election can be conducted in places where lapses were discovered, contrary to INEC's announcement of the candidate that won the governorship election.''
''However, today, March 29th, 2023, INEC reconfirmed its earlier announcement of the winner of the governorship election, with the issuance of certificate of return to NNPP candidate, Abba Kabiru Yusuf, I want to remind the people that prior to this moment, we have prayed to God to give us victory if it will be in the best interest of all and if it will be otherwise , God Almighty should do the best.''
Gawuna appealed to supporters to accept faith and committed to the will of God.
''I sincerely appreciate our supporters and well-wishers for coming out en mass to cast their vote for us during the March 18th, governorship election.''
''I pray God will guide the governor elect for him to be fair to all and for us to be law abiding.''