An Open Letter To The Governor-Elect Of Benue State Rev. Fr. Dr. Hyacinth Alia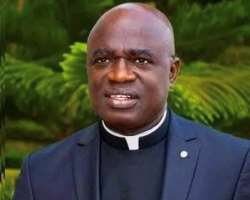 Fr. Hyacinth Alia (Governor-elect, Benue State)
"We have become a community with different codes, values, and facts. We have mastered the art of destroying others to outshine and ascend the ladder of success."
Dear Governor-elect, Fr. Hyacinth Alia,
It is a great pleasure and honor to write this open letter to you. Let me take this opportunity to formally congratulate you on your success in the March 18 poll. I have never met you in person. However, I have heard some good stories about you. Even after I joined the Society of Jesus (Jesuits), I continued to hear about your ministry in Benue. A few years ago, I was surprised to learn that you announced your intention to become governor of our State. Ahead of the election, you demonstrated an extraordinary commitment to the people of Benue through a strong campaign. Now is the time for all constituents to unite and support your shared vision of a strong and healthy nation. I may not be the only one among the Benue diasporans writing about the difficulties facing Benue State. However, I speak from experience and understanding of the conflict in Benue State. Indeed, the Benue people had high hopes that they had elected a government that would serve them, judging from the campaign promises and the failure of the previous government to meet the yearnings of the Benue masses. It is light at the end of the tunnel.
You did a commendable job engaging the Benue people in your acceptance speech. You spoke to us about where we are and took the time to explain our predicaments, contributions to your campaign, and challenges we face as a State– all of which have significantly impacted every facet of the State. You made a promise that inspired hope. Hope is a virtue we hold profoundly in our hearts because it has been and will always be the strength and success of the Benue people. I am writing you this open letter hoping you will take the time to read it and understand the importance of this message and why I decided to write you personally. To address the deep-rooted issues of Benue, which you mentioned in your acceptance speech, it will take more than one man or one administration to conquer. But with the support of the entire State, I know we can work together to bring to life the changes you promised.
In a few months, you will officially transition from a governor-elect to the serving governor of Benue State. I must extend my congratulations once again to you for the uncommon feat of defeating the opposition candidates, even as your emergence epitomizes a victory for democracy and a reflection of the preferred choice of the good people of Benue State. This victory is a testimony to your tenacity, resilience, determination, courageous planning, and clinical execution over the uninspiring leadership of the outgoing governor. The people of Benue State spoke in one resounding voice and rewarded your resilience with the highest stewardship in the land. It is now your turn to reciprocate the support of the people by justifying their choice at the poll through people-driven governance, accountability, and accessibility by those who have invested their trust and confidence in you.
Your excellency, as you rightly stated in your acceptance speech, the task ahead of you is daunting but not impossible with the right team and political will. The backlog of arrears of salaries, pensions, gratuities, the IDPs, and the persistent insecurity challenges had sparked an enormous challenge for a prosperous Benue. But it is, however, my belief, one shared by a great deal of the people of Benue State who gave their votes to you, that you are a man of focus who will not betray the aggregate hopes of those who have put their confidence in you and that you will not renege on your campaign promises nor stray from the noble path.
Your excellency, you should be proud to have earned the privilege to become the governor of our State. The youth (young men and women) of Benue State were at the forefront of your campaign, helping you to overcome the financial temptations of money politics to hand you a resounding victory. The measure of any successful government is how it carries its young populace along, not just in stomach infrastructure but in entrusting positions of authority to them as parts and parcel of the government. I sincerely beg you to make young people the cornerstone of your administration. To build a transcendent legacy, you need the trust of the young demographic who are now driving political portends and conversations more than at any other time in our political history. You may need the support of these young leaders of tomorrow to deliver on your many promises with humility and grace. Indeed, the government that deprives the quality of its youth representation can never be taken seriously in these times. I can confidently say that Benue State University has trained several youths of uncommon competence who have proven themselves in public or private service. It is your job to discover them and give them roles to rebuild the State. The choice of bringing youth to work in your administration must not happen in a rush. Hence, your administration should consider qualities such as ideology, personal competence, general acceptability, capacity, and integrity. It is to these that a great many young men and women of Benue State will look up to in a measure of how they relate to you and your government. I do not doubt that you will act rightly toward them as this fact is at the heart of the support you will enjoy amongst many of us in the civil society scope. To betray the youth population of Benue State would be to betray the trust of people who have used their platforms to canvass popular support for your candidacy and eventual emergence, and one that will regrettably catalyze a reversal of that broad trust and support. We, however, stay affirmed to your government as we share the conviction that you are a man in touch with the realities of the time and committed to working for the people and the State.
Your excellency, as the governor-elect waiting to take over the mantle of leadership, you have a challenging task ahead of you. I am sure you also recognize the difficult task ahead of you. You might be aware that the State is grappling with various issues, such as ethnic and religious divisions, rampant corruption, poor economic growth, a high unemployment rate, security challenges, and inadequate healthcare and educational systems. To address these problems, you must set a clear agenda that will prioritize the interests of all Benue people, regardless of their background or religious status. Your excellency, always remember that while you might claim that the Benue people elected you, they were the majority of others who never liked you to win. You were mocked and accused of ceding the State of Benue to Tinubu. Others wrote articles to question your antecedents as a priest and challenged you to prove that you healed people during your healing ministry. There was even the establishment in the Church hierarchy that fought you hard.
This attitude of looking down on a brother or sister is not new to Benue people. Benue people (especially the Tivs) are all too familiar with the entire episode. It has become a recurring decimal in our existence as a people. J. S. Tarka, in all his popularity and fame, was brought down by his people. Aper Aku, widely credited with laying the foundation for modern Benue, suffered the same fate at the hands of his people. Yet,today there is no single past leader of the State to equal Aku's legacies. Rev Fr. Moses Orshio Adasu suffered the same indignities from his people before his death. Yet, he was a man whose service to the State was so selfless that he died without building a house for himself throughout the one year and ten months of his tenure as governor. He constructed the modest house he lived in and died while serving as a priest long before he became governor. Sometimes, I intend to attribute the Benue man's penchant for destroying their best to the witchcraft tradition. According to witchcraft tradition, only the very best is sacrificed or wasted. The worthless ones, the thugs, the hoodlums, gangsters, criminals, drug addicts, and the hemp smokers are immune. In the retrogressive witchcraft ideology, people expect young people to hide in the background to avoid being noticed by the elders or those in authority, no matter how brilliant their ideas are. Benue, therefore, today boasts only of dead heroes. Be aware that you will go through the same criticisms. But the right way to respond to such critics is to remember the encounter between Jesus and the adulterous woman in John 7:53-8:11. He or she who has no sin should be the first to cast the stone. Many of us have quickly forgotten the story of an adulterous woman, which provides an excellent example for us to follow when we find ourselves reacting judgmentally or with attitudes of self-righteousness toward someone else's sin.
Today, Benue State is at a disadvantage, as it has been since Nigeria's inception. Still, ironically, we have dealt the deadliest blows from within, creating the most significant obstacles for ourselves. We cannot spare anybody from the destructive drive. As a Benue public policy student, the Benue Cement Company is a painful source of concern. No sensible Benue indigene passes by that company and sees a swath of the landscape destroyed without moaning. The billions of Naira quarterly declared as profit by the Dangote Group does not have any corresponding thing to show. However, the condition of those of us who work there as casual laborers is pathetic. Most are now contract workers who will never receive a pension at their retirement. For some time, a few Benue sons and daughters have taken it upon themselves to bring the plight of the Benue people to the fore through publications and in the national dailies to no avail.
In recent years, an investor said his peers had injected money into the Taraku Mills Company to revive it. This ailing industry aimed to produce the finest grade of all edible oil and different kinds of flour, including all forms of animal feed. In its heyday, Taraku Mills supplied vegetable oil to all parts of northern Nigeria. But corrupt managers and sheer government neglect have not only killed the company but have also killed the efforts to restore it. The pertinent question is, why would the state government allow corrupt persons to supervise the revival of this industry that holds enormous prospects for the people? This company is the legacy of the first civilian governor of the State, the late Aper Aku, and should be protectively guarded, but sadly, our government treated it with negligence. Beyond doubt, Aku's regime initiated the idea to set up other similar industries such as Otukpo Burnt Bricks, Benue Fruit Juice Factory in Makurdi, Benue Packaging Company, Gboko, and Benue Education Supply Company to develop the State's agricultural and natural resources. Ostensibly, the Aper Aku administration had envisioned that these companies would gainfully employ the youths, the farmers who formed the majority of the rural population would have ready markets for their produce, and the government would also generate enough revenue to boost the socio-economic sector of the rural and civil service state. Confidently, not a few persons during the glorious birth of the dilapidated company had believed that the good intention of the governor, who in only four years of his tenure left footprints on Benue soil, could be easily muzzled and die quickly for lack of proper management.
Taraku Mill started full-scale production in 1989 after installing the necessary equipment. The government installed all the machines between 1986 and 1987. The government centrally located this company at Taraku, a four-kilometer distance from Otukpo, to serve the three dominant groups of Tiv, Idoma, and Igala that form present-day Kogi State. The prediction was that the site's proximity to a nearby railway station, with the large expanse of land at its disposal, would encourage farmers to grow soya beans and benniseed to feed the factory's needs. Moreso, the availability of raw materials would create an enabling environment for job seekers and an avenue for people to market their farm produce to the company. The intention was to add value to agricultural production for a rural state so that other economic activities related to farming and agriculture could gradually pick up to enable the population to survive in an agro-allied economy. But as it is, tales of disappointments, agonies, and disillusionment replaced the noble dreams of the founding father, especially for the fact that in the last decade of their epileptic operations, the ailing mills were reputed to be the largest of their kind in West Africa had undergone pathetic stages of abject neglect in the hands of successive administrations.
Today, the Benue State government has shut down Taraku Oil Mills and laid off its staff. The laying off of staff and the delay in paying them has caused severe hardship to the affected workers. Sixty persons died while waiting for their benefits. Some of whom are my family members. I cannot forget how excited and happy some people were when they realized you won the election and became the governor-elect. I will not forget how gloomy and unhappy some Benue people were when they realized you won the election. Many such people will be hostile and aggressive to your administration, looking forward to your failure, so they can proclaim themselves prophets that saw the future in your collapse. A successful option is that you can become the governor of Benue and all Benue natives, addressing the divisive challenges and issues plaguing Benue. But that is if you care for the State. As a Benue indigene, my concern has always been to see a prosperous and healthier Benue. Hence, I sincerely pray for your success in realizing these dreams for a greater Benue.
As a concerned Benue indigene, let me highlight the areas that I think you must prioritize in your administration as you prepare to assume the office of the executive governor. As a matter of urgency, you must prioritize restoring the unity of the Benue people. The unity of Benue has never been this fragile and polarized since the creation of Benue State. Today, you have emerged as the governor-elect in the most polarized State. In the last few years, it has become clear to anyone living in Benue that we are facing an issue of polarization. And the force that empowers this polarization is tribalism, ethnicity, and religion. Deep antagonism stirred by political leaders against each other has hindered parliamentary and government cooperation and triggered a cascade effect of divisions among the Benue people. Political parties and indigenes who have become followers of party leaders have replicated these conflicts. But what do these events tell us about the State of polarization in Benue? In recent years, polarization has increased between the people and the party elites. Confidential debate, confined to the fringes of older circles, has made its way to the Facebook pages of the Benue people. We have become a community with different codes, values, and facts. We have mastered the art of destroying others to outshine and ascend the ladder of success. In our public debates, it seems that we no longer disagree. We reject each other premises and doubt each other motives. We question each other's characters and close our ears to different points of view. At home, polarization has destroyed personal relationships, ruined companionship, and torn families apart. We are experiencing these divisions in our workplaces, neighborhood meetings, and even our places of worship. At media interviews, analysts attack and mock opponents and talk over each other. On the internet, social media has become a hotbed of outrage, takedowns, and cruelty—often targeting our brothers and sisters. But this notion can change. Most of the Sons and Daughters of Benue, what I would call an exhausted majority, have had enough of our polarization. They know we have more in common than what divides us: our belief in sovereignty, uniformity, and common dream. They share a deep sense of gratitude that they are indigenes of Benue. They want to move past our differences. It is possible to abolish the disunity between us - but it will not be easy for you. As much as we have differences and disagreements, you should be able to listen to us to understand those differences and find common ground. That should be one of the goals of your administration. To understand better what is pulling us apart and what can bring us back together.
Polarization today reflects a perfect storm: unsettling changes in our community and society have left many Benue sons and daughters feeling like strangers in their land. Old certainties are gone. The concept of eating and giving to a brother or sister, the notion of I am because we are, and the safety of neighborhood life where everyone knew each other all feel like relics of a bygone era. It feels as though hard work is no longer accepted, yet the gap between those who have and those who do not have widens yearly. Many sons and daughters of Benue wonder who else they can trust. The institutions that once bound us are disappearing, and we no longer seem to have each other's backs. Everyone appears to have a varying version of world events. Hence, it becomes more challenging than ever to sort fact from fiction. Our news feeds seem to echo our views, and when people post alternative opinions, they often get attacked by angry mobs. We do not disagree without perceiving another person's views as stupid, wrong, or evil. We are being played off each other and told to see each other as threats and enemies. The loudest and most extreme voices get heard, while others feel they are outsiders. Nobody wants to turn the clocks back because several things are not right about the world of the Benue people. Today, we seem more fractured and fragmented than anyone can remember. Instead of helping us find solutions to move us all forward, politics is driving us apart. When people fail to understand each other, they cannot converse or find common ground. Yet somehow, if you could only press a reset button, things could be different, and we could move forward together as one community. The time to reset that button is right here and now.
Your excellency, the people of Benue will appreciate more if you list unity as part of what your administration will focus on in addition to your seven-point agenda and promote policies that will foster greater understanding and cooperation among the Benue people. This suggestion is necessary because we have too much unpleasantness, animosities, resentment, hostility, and bitterness in our land. People are hurt, impoverished, and have become beggars in their land. You will be the governor of such people, whether we like it or not or whether we voted for you or not. Hence, you could rise above sectionalism, regionalism, and indigenous sentiments to become the governor for all. My opinion is that you should create time to help us live peacefully and participate in the socio-political activities of the State. It is ridiculous that the people of Benue should suffer in a State that belongs to all of us. The Benue indigenous people living in the State should not be considered strangers.
Finally, your excellency, you will receive congratulatory messages from people of all worth of life, social media advisers, and content creators congratulating you on your victory at the polls. These people were often harshly critical of the priesthood and your choice to become the governor. Some took their anger out on you to divide our church deeply. I would, therefore, remind you to be wary of sycophants in the corridors of power whose interest is to engage in bootlicking and hypocrisy. These people will do everything now to praise you but they will also be the first elements to criticize you when you fail to deliver on your mandate. I urge you to be wary of these people, steadfast, focused, and dedicated as you steer the affairs of the State. The Nigerian expression goes: Shine your eyes and do not fall our hands! If you fail, it will be devastating and heartbreaking. As a Jesuit Catholic priest, I would be ashamed. But if you succeed, you will put the Catholic Church in the position of having authentic and transformative leaders who play a fundamentalrole in inducing a positive change. People will believe in our church as the only institution with genuine leaders to serve others. When it was clear you were the winner of the just concluded election, someone wrote on Facebook that if you let down the Benue people, the last hope would be to try the traditional herbalist or witch doctor. We do not wish to go to that level where people will make a caricature of the Catholic priesthood and the church.
Your election is a battle we desperately need to win in Benue. Right now, we are facing an economic crisis that has exacerbated job mobility for the people of our State. Our standing as the "food basket of the nation" with a conducive environment for business has also fallen. I pray that our legislatures will work with you to stem this decline by promoting policies that help create and retain the "food basket of the nation." In doing this, you will ensure Benue's continued success as a desirable place to be and raise a family. The people of Benue have provided an opportunity for you to set a new tone and direction for this powerful place we call home. As a brother priest, I am confident that you understand the Benue issues and that your experience can help move the State forward. Once again, I congratulate you on your election as governor and wish you a smooth transition. I envisage a powerful collaboration between your administration and legislative session to ensure that Benue, once again, becomes an attractive place to work and live.
Rev. Ma, S.J, is a Jesuit Catholic priest and PhD candidate in public and social policy at St. Louis University in the state of Missouri, USA.