Pastor Chika Amadi Honoured In London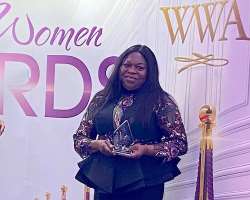 A Nigerian born British politician, lawyer, author and Minister of the gospel, Pastor Chika Amadi has again been honoured for her contributions in politics, the Church, the gospel, legal services, humanitarian services and literary works.
Pastor Chika Amadi who is a Senior Pastor at Good News Bible Church in London, anchors a popular TV talk show program " the Pastor's Wives" was nominated for an award by The Wise Women Awards in appreciation of her immense contributions to the Church and humanity.
The Wise Women Awards is a platform that have provided Christian women from across the denominational spectrum and across the world with an opportunity to be recognised and honoured for their contributions in the Church and the wider world. The award ceremony which is on its eleventh year has encouraged and supported the growth of Christian women.
The recipient has this to say: "I always say that my Faith is who I am while my politics is my service to my community. Love God and love people".
She further went on to say "In life the way up is to serve God, serve God's people, serve humanity without expecting anything. Leadership is about serving others just like our Master. Wherever you are your tiniest service is being noticed and one day you will be blown away. In appreciation for this wonderful award I return all the praise to my Heavenly Father from whom every good and perfect gifts come"!
"I dedicate this award to my dream husband Apostle George Amadi and amazing children, Paula, Pamela, David and Sharon , my Levites.
To share in this joy are all my team members at Family Mediation Centre including Deaconess Olaide Oshinowo here with me for your secret services to the community.
Congratulations to my fellow awardees, past and present, keep at it, don't lower the bar.
My appreciation also goes to all members of Goodnews Bible Church for your deep love for God and my family. All my family: Henry Dele Oduenyi, Emeka Esomonu, Kingsley Opurum and my late diplomat Brother Paulson, you are the best.
Finally, he or she that waters shall be watered,Thank you Pastors Marjorie and Clem Esomowei and your hardworking team at Wise Women Award for your foresight and dedication- whoever you are be encouraged, keep showing up no matter what you are up against. Live unashamedly and audaciously for our Master will soon be here".
Congratulations to a woman of noble virtues, an exceptional mentor and a kingdom warrioress. We will not be tired of celebrating your exploits.