Imo Diaspora Group Warns INEC Against Shoddy Conduct, Charges Imo Electorates To Vote Their Conscience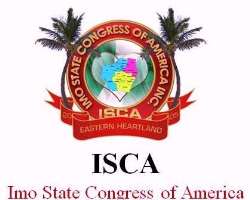 The Imo State Congress of America (ISCA) has appealed to the citizens and residents in Imo State to come out en masse to cast their votes to their preferred candidates for House of Assembly on March 18, House of Assembly Elections.
The apex Imo Diaspora organisation made the call through its President-General, Engr. Sampson Ude on Wednesday, March 15, 2023.
He Commended the Imo Electorates for coming out en masse to cast their votes to their choice Presidential candidates but was quick to condemn the violations of the electoral acts and guidelines by the Independent National Electoral Commission (INEC), describing it as unfortunate.
He also decried reported incidents of criminally disenfranchising electorates by reducing ballot booklets in some areas with a view to frustrating voters.
Engr. Udeh, therefore, urged INEC to be circumspect and avoid any act that might bring about break down of law and order on the March 18th Governorship and State Assembly Elections across the country, including some of the House of Representatives re-run elections.
He also encouraged Imo citizens to come out in their numbers to vote their conscience warning against voting those who would mortgage their future and future of the youths, women and children.
His statement:
"We, the leaders and members of Imo State Congress of America wish to salute the courage of Ndi Imo at home and other parts of Nigeria for coming our en masse to vote for their choice Presidential candidates. At the end of the day, you voted the best man for the job.
"We learnt of the collusion of the government agents and some INEC Officials to perpetrate electoral malfeasance in a bid to truncate the people's choice, thereby causing disaffection and frustration against Nigerians.
"A situation where results were churned out from places where there were no elections should not be allowed to stand. We also received reports of violence across the country, an electoral crime that the perpetrators must not be allowed to go unpunished
"Imo State Congress of America, however, condemn the recklessness and partisan posture of the Independent National Electoral Commission (INEC) on the just concluded presidential and national assembly election, describing it as a sham.
"We wish to encourage Imo people and Nigerians at large not to stay away from the March 18 House of Assembly Elections in Imo State and Governorship elections across the country, emphasising the need to get it right from the grassroots. This is to ensure that those being voted for must be accountable to the people and would also ensure checks and balances in the government to engender good governance.
"We must state that the country is sitting on the keg of gun powder and and little dislocation can lead to civil disobedience and breakdown of law and order.
"We, therefore call on the INEC to be circumspect and ensure that extant electoral laws and acts are abided by all and sundry. There is need for the Institution to weed itself of corrupt officers, especially those who are partisan.
"Nigeria's Judiciary is already attending to the suites that border on electoral law breaches. This is another opportunity for it to redeem itself from history of pervasive and unjust verdicts. It must ensure that it looks at the justice of the case as the heat in the country might not be easily quelled by mere wishful thinking and threats with state's instruments of coercion."
Meanwhile, Imo State Congress of America has expressed it's commitment to ensure that Democratic governance I'd enshrined in Imo polity by joining hands to ensure that people's votes count.
Engr. Use also revealed that ISCA will be engaging Imo State Governorship aspirants during their forthcoming convention in Houston Texas. He said that Invitation will be extended to all the aspirants. The convention is expected to hold from July 20th to July 23, 2023.