Update On Abuja Abduction: Pastor's Son Escaped, Narrates Encounter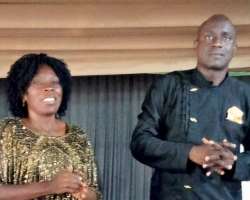 Abducted Pastor Collins Ugwu and wife
Following the invasion and abduction of over three families in Chikakore Estate, opposite Champions Assembly Headquaters in Kubwa, a suburb of Abuja city, it has been confirmed that Pastor Collins Ugwu's son escaped the bandits.
Suspected bandits had at about twelve midnight abducted Pastor Collins Ugwu, his wife, one child, his brother and about three other families
Pastor Collins Ugwu is a Pastor of Goodnews Bible Church located around Kubwa market, close to Kubwa NYSC camp. It has been confirmed that one of his sons escaped the ordeal of the bandits by jumping over the perimeter fence of the estate. They pursued him but he outran them into the bush. He continued deep in the bush till he got to a river bank where he hid. Sensing that they have gone, he contacted relatives with his phone who came and rescued him.
According to him the abductors came with three hilux trucks which they used to take the abductees. Meanwhile, his body is covered with bruises and a twisted ankle but he remains grateful to God while praying for the safety of his parents and other victims.